Macodes petola jewel orchid, mottled sea green leaves, gold veins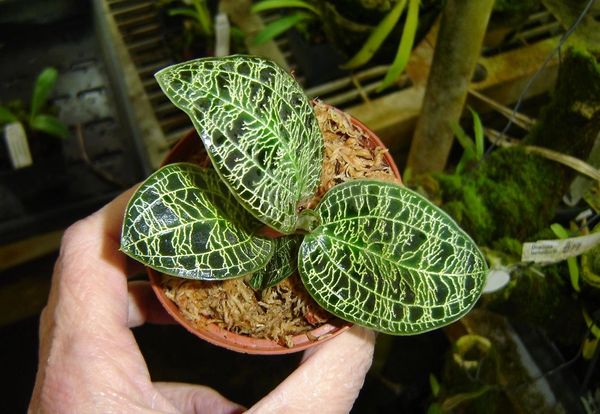 Macodes petola jewel orchid, mottled sea green leaves, gold veins
Beautiful sea-green leaves

Jewel orchid

Super easy to grow

Patterned leaves, gold veining
Grown for their foliage and not for the flower, these unusual orchids with the amazing leaves are beautiful jewel orchids.

The flowers range from insignificant to downright unattractive, but no one grows them for the blooms.

It's the leaves that matter. They have a lovely mottled, sea green kind of look. Although you grow these in low light, they sparkle with gold veining in the sun.

We grow these in sphagnum moss, and we try never to let them try out completely. Fertilize very weakly every couple of weeks. They can be propagated from cuttings, very much like standard jewel (ludisia discolor) orchids.

You are buying the kind of plant pictured. It's small, in a 2.5 inch pot, but these are rapid growers. These are great for windowsill growers, as they don't take up much space. Just make sure it's a shady window. Makes an excellent terrarium plant. You are purchasing one seedling.

They are native to the Philippines. The leaves are about 2 inches long already, and we always ship the largest. Allow to dry almost (but not quite) completely between waterings. Grow these in deep shade or low light. Use a humidity tray if your home is exceptionally dry. We guarantee customer satisfaction upon delivery.