Live Oak leaf earrings natural look hand crafted jewelry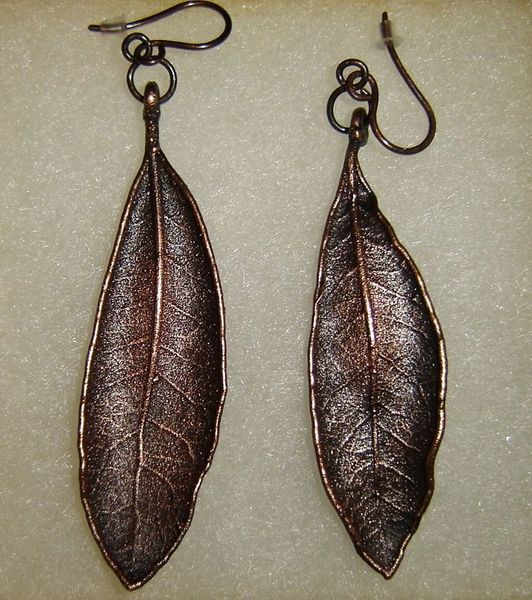 Live Oak leaf earrings natural look hand crafted jewelry
Copper coated Live Oak leaf earrings natural look hand crafted jewelry
These dangle earrings for pierced ears feature real Florida Live Oak tree leaves coated in copper and finished with an acrylic glaze to keep the natural look.
These are made for us by our friend Phoebe Hopper, who has a deft touch in fashioning her Blue Torch jewelry with melted metals over leaves and twigs. Because the pieces get their start in nature, no two are exactly alike, but of course all are similar.

Phoebe lives near us here in Tennessee, but she has family ties with folks in the Sunshine State, where the grandfather live oak trees grow to towering heights.

The leaf portion of these earrings is about 2.5 inches long. Not too big, not too small. The ear wires are also copper, coated in a clear glaze to prevent any irritation to pierced ears.

They come in a gift box, of course.

They really are exquisite. And they come with a plastic stopper for the ear wires, so you won't lose one if you brush up against a coat collar or something.
Live oak trees -- Quercus virginiana -- are one of the classic symbols of the South, big, beautiful, and often romantically draped in Spanish moss.

We ship USPS First Class Mail with a tracking number, for delivery in 2 to 4 days.

At The Orchid Gallery, we're more than great plants. We also carry a line of popular jewelry as well as a nice selection of other items, especially around the holidays.