Lc. Busy Bev 'Blue Jewel' cattleya orchid blooming size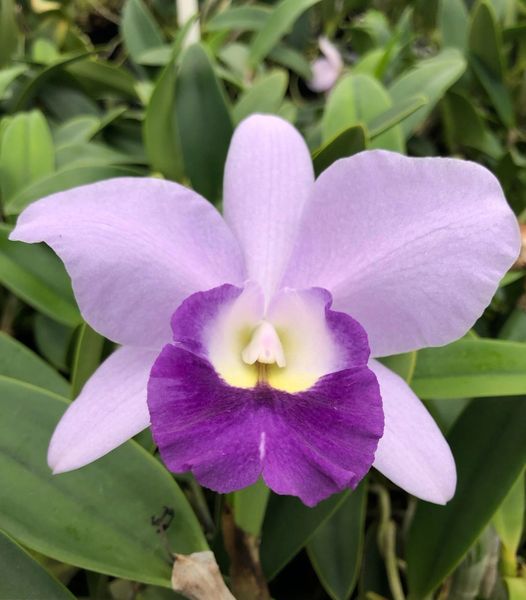 Lc. Busy Bev 'Blue Jewel' cattleya orchid blooming size
NOT in FLOWER now

    FREE growing instructions and FREE shipping
    Blooming size but NOT in flower now
    Will produce simply stunning flowers

This one makes lovely, large blue flowers (four inches across or more) with a darker blue/purple lip. Really pretty.

The breeding on Busy Bev is Lc. Dinard X Lc. Purple Secret. These are mericlones of the 'Blue Jewel' cultivar. Fragrant.

These came to us in a large wholesale order, in need of repotting, and we'll handle that chore for you before we ship. We don't think you need to repot on arrival, but if you do, expect to see some brown roots, mostly from the coloring that washes off the fir bark in our orchid mix.

These tend to be spring bloomers, and we think you can expect flowers in 12 months or so. A few have bloomed once already. But no guarantees; it's an orchid so it has a mind of its own.

Cattleyas like these are easy to grow, and very rewarding.  Good plants for beginners. We include free growing instructions. You pretty much can't go wrong.

About Shipping

We ship USPS Priority Mail or UPS.

We  guarantee customer satisfaction on delivery.

If there's a problem, please contact us before leaving feedback.

We'll work it out with you, up to a full refund.

When you shop with The Orchid Gallery, you get:

The benefit of our 40 years experience with orchids
Our customer satisfaction guarantee
Our friendly customer service
The chance to ask questions and get free advice
A care sheet with almost every orchid, filled with growing tips
A quality plant, packed by professionals
A tracking number for every orderd friendly, personalized service. Our grower inspects every plant we ship.