Paph lowii species orchid large seedling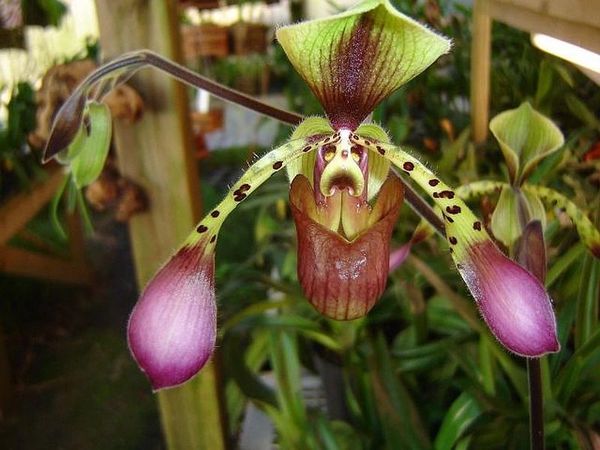 Paph lowii species orchid large seedling
FREE SHIPPING
We think the multifloral Paph lowii is one of the kings of the orchid world and the flowers are always among our very favorites. The blooms get oohs and ahhhs at every show.
Paph lowii is native to Malaysia and Borneo. You are purchasing a plant like the one pictured. It's in a tall 2.25 inch pot. The leafspan is already about 10 to 12 inches.
The breeding on this one is Paph lowii ('Pilar' HCC/AOS x 'Hillsview' AM/AOS). It's a cross between two awarded cultivars from the Award of Quality grex from well-known paph breeder Sam Tsui.

The flowers on this orchid generally have very very nice color and great substance. Four to seven flowers on a spike are not unusual on mature plants. We think future awards are likely.
These are easy growers, too. Provide low to medium shade, try not to let it dry out completely, fertilize weakly every couple of weeks. Use distilled water now and again to wash away any salts in the mix.The first picture shows one of our keeper lowii plants; the second shot is the kind of plant you are purchasing.
You can buy with confidence. We guarantee customer satisfaction on delivery.

About Shipping
We ship USPS Priority Mail or UPS
We  guarantee customer satisfaction on delivery.
If there's a problem, please contact us before leaving feedback.
We'll work it out with you, up to a full refund.
We may delay shipping if it's too cold where you are.
When you shop with The Orchid Gallery, you get:
The benefit of our 40 years experience with orchids.
Our customer satisfaction guarantee.
Our friendly customer service.
The chance to ask questions and get free advice.
A care sheet with almost every orchid, filled with growing tips.
A quality plant, packed by professionals.
A tracking number for every order.
FYI:

We define blooming size as likely to flower within 12 to 14 months or so if properly grown.
We define near blooming size as likely to flower within 18 to 24 months or so.
We define seedlings as likely to flower within 24 to 36 months.
In bud means you can expect to see flowers in 3 to 6 weeks or so.