Large California redwood tree sapling - 20 to 24 inches high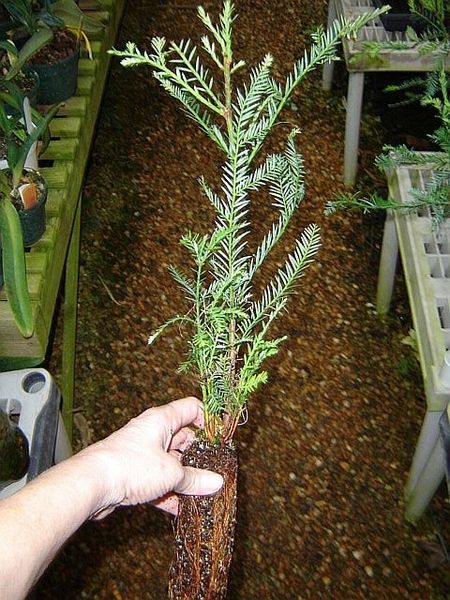 Large California redwood tree sapling - 20 to 24 inches high
Free Shipping

Easy to grow, instructions included
Redwoods (Sequoia sempervirens) are one of the oldest plant families on Earth. Although they thrive in the temperate rain forests of the Pacific Northwest, they can adapt to higher elevations and warmer and dryer climates, as well as colder areas.
The secret is lots of water and some sunshine, especially at this early stage.
You are purchasing a large redwood tree sapling, two to three years old. These stand about 20  to 24 inches or so measured from the bottom of the plug, which is about 1 inch in diameter. They have an extensive root system already. They ship in a long tube.

These are actively growing and we always ship the largest. We recommend that you pot these in 1-gallon pots on arrival. Suggest growing as a pot plant until the spring of 2022 before planting in the ground.  Mulch well for that first winter. Also can be used to make a nice, large bonsai, just keep cutting it back. OK for zones 6 - 9, but do not allow to dry out completely.

Redwoods have a genetic configuration with 6 sets of chromosomes that developed over thousands of years to allow the trees to grow in many diverse climate conditions and regions.
When trees breathe they take in carbon dioxide, release oxygen and store carbon in their trunks. Trees lock away carbon in a more permanent way than other plant species due to their size and relatively longer life spans.
This process, called carbon sequestration, is something California's redwoods do better than just about any other species on the planet. When given the right conditions, redwood trees gain height and girth quickly. Underground, forest soils and root structures store even more carbon. Because redwoods can live for thousands of years, they are a very long-term source of carbon storage.
The common name for these trees is California Redwood or Coastal Redwood. They can live for 2,000 years or more in ideal conditions. This species includes the tallest trees on Earth, reaching up to 375 feet in height and 26 feet in diameter.
More info:
Redwood trees can grow very rapidly. Young trees develop a narrow conical silhouette -- the highest branches reaching upward, the lower ones drooping. This shape changes with age.
Young redwoods use sunlight so efficiently (3-4 times more than pines) that they can grow even in deep shade. But with full sunlight and moist soil, a large redwood sapling can grow more than 6 feet in a single growing season! The babies offered here can grow up to two feet in a year, if the conditions are right.
About Shipping
When you shop with The Orchid Gallery, you get:

A tracking number for every order
A quality plant, packed by professionals
A care sheet with almost every plant, filled with growing tips
The chance to ask questions and get free advice
Our friendly customer service
Our customer satisfaction guarantee
The benefit of our 40 years experience with plants
We ship USPS Priority Mail or First Class Mail