Large blooming size Cycnodes Wine Delight FCC orchid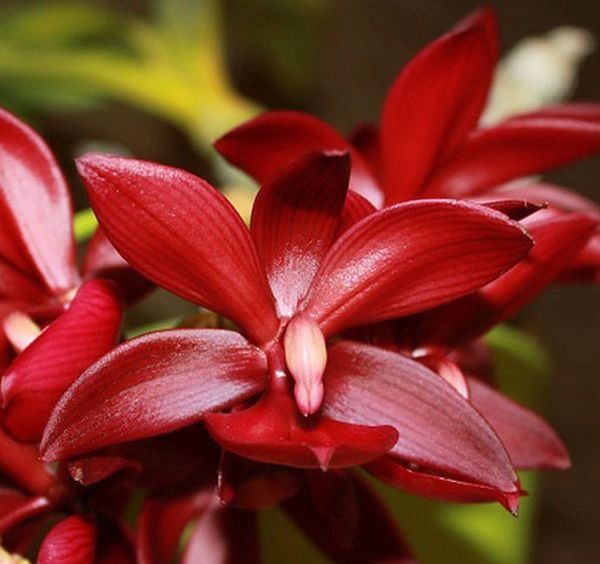 Large blooming size Cycnodes Wine Delight FCC orchid
Cycnodes Wine Delight is a hybrid that produces stunning flowers, but be careful because it's deciduous and will lose its leaves from time to time. Don't panic.
The breeding is Cycnoches lehmannii x Mormodes sinuata. First registered in 1980, there are awards aplenty. The ones offered here are clones of Cycnodes Wine Delight 'J.E.M.' FCC/AOS, awarded 91 points in 1984 in San Gabriel, CA.
The judges had this to say: "Three flowers and two buds on one inflorescence; sepals and petals vibrant ruby-red with darker venation; lip slightly brighter, solid, flat and rigid; column base ruby-red fading to light cream; flower substance extremely heavy with a waxy texture; symmetry of flowers outstanding considering the Mormodes sinuatum parent; size and richness of color over other clones contributed to this high award."

Both parents are considered to be in the Catasetinae grouping. Cycnoches lehmannii is native to Ecuador; Mormodes sinuata is native to Brazil and Venezuela.
Mature pseudobulbs may produce one or more arching to nearly horizontal flower spikes, which emerge from nodes along the length.
These are blooming size, big plants (15 inches high or more) but not in spike now as far as we can tell. Water heavily when plant is first forming new leaves; gradually reduce watering as the pseudobulbs mature, and leaves start to yellow and drop. These plants are accustomed to going through a somewhat dry season. They tend to be spring and summer bloomers.
About Shipping

We ship USPS Priority Mail or First Class Mail
We  guarantee  customer satisfaction on delivery.
If there's a problem, please contact us before leaving feedback.
We'll work it out with you, up to a full refund.
When you shop with The Orchid Gallery, you get:
The benefit of our 40 years experience with orchids
Our customer satisfaction guarantee
Our friendly customer service
The chance to ask questions and get free advice
A quality plant, packed by professionals
A tracking number for every orde