Blooming Size, Phrag. Aker's Fu Manchu, Shipping Included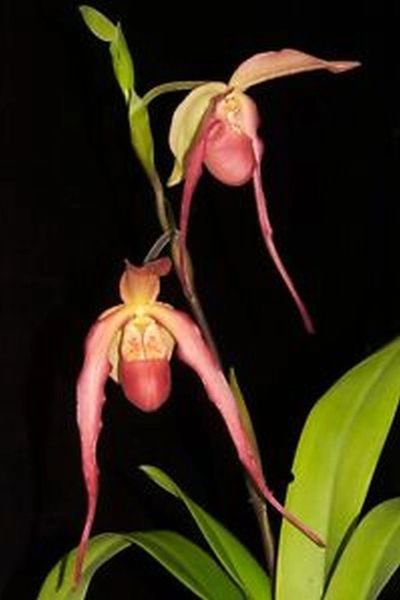 Blooming Size, Phrag. Aker's Fu Manchu, Shipping Included
One of my all time favorite Phrags. And one of the easiest to grow and bloom
I'm a sucker for long petaled orange/red/pink Phrags. This one gets my juices flowing. The breeding is Twilight X humboldtii. These are fast growers and reliable bloomers. These are a hybrid of a sequential bloomer with a multifloral. So after the first blush of 3 or 4 blooms you may well get another couple of flowers. 
They prefer bright dappled light moderate temperatures and lots of water. Never let them dry out. Fertilize sparingly, about once a month with a dilute balanced fertilizer.
These are not in spike now, but they could put up a spike at any time now.
We ship via USPS Priority mail or UPS.
We  guarantee customer satisfaction on delivery.
If there's a problem, please contact us.
We'll work it out with you.
We may delay shipping if it's too cold where you are.
When you shop with The Orchid Gallery, you get:
The benefit of our 40 years experience with orchids
Our customer satisfaction guarantee.
Our friendly customer service.
The chance to ask questions and get free advice.
A care sheet with almost every orchid, filled with growing tips.
A quality plant, packed by professionals.
A tracking number for every order.