In spike! Phalaenopsis (phal) Younghome Coco orchid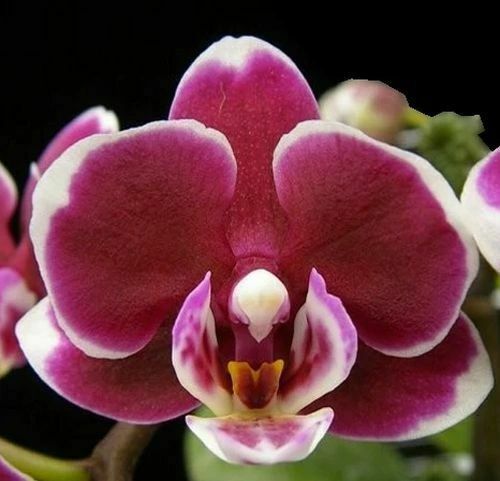 In spike! Phalaenopsis (phal) Younghome Coco orchid
We don't stock a lot of phals, but some of the newer breeding from the Taiwan growers has caught our fancy.  

This one is the Younghome Coco cultivar. Charming, no? The breeding, if you're into that sort of thing, is Phal Younghome Mantis × Phal  Formosa Cranberry. The color is a rich burgundy, with white picotee lining the edges.

These are first bloom seedlings, in 3-inch pots, with a leaf span of 7 to 8 inches or so, in spike for the first time.

Phals are among the best orchids for beginners. The flowers often last for months, and they are easy to care for -- provide low light, keep moist but not sopping wet, fertilize weakly twice a month.

Do NOT overwater and do NOT put an ice cube on them. Phals are tropical plants and they have NEVER met an ice cube - that's just a marketing gimmick. Repot after the next blooming.  

About Shipping

When you shop with The Orchid Gallery, you get:
A tracking number for every order
A quality plant, packed by professionals
A care sheet with almost every orchid, filled with growing tips
The chance to ask questions and get free advice
Our friendly customer service
Our customer satisfaction guarantee
The benefit of our 40 years experience with orchids
We  guarantee customer satisfaction on delivery.