In spike! Phal Tianyi Honey orchid, pink freckles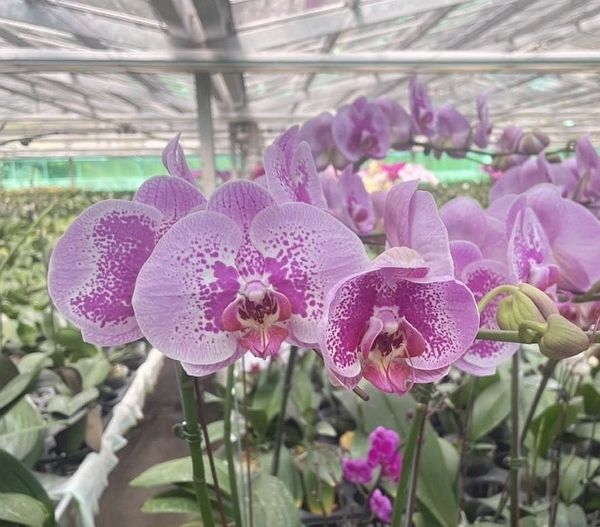 In spike! Phal Tianyi Honey orchid, pink freckles
Will produce lovely flowers
Easy to grow, instructions included
Good plant for beginners
In spike now!
Expect flowers in 4 to 6 weeks
We don't sell many phals, but we kind of fell in love with this one. Lots of dots on a white/pink background. Maybe we just like freckles.
This one is Phalaenopsis Tianyi Honey and it looks to be a honey of an orchid. Possibly named for an anime character, but we don't know for sure.
These are large, blooming size plants, in spike now. They have a leaf span of about 15 inches or so, in 4-inch pots.
We include free growing instructions with each order. DO NOT ADD ICE. Tropical plants have never seen ice -- that's just a marketing gimmick. And don't repot until the flowers come and go. It's a shock to the system, and may cause the buds to blast.
If you like phals and know how to grow them (don't water so much), this one makes a nice addition to any orchid collection.
Mature plants can have multiple spikes, with 6 to 8 long-lasting flowers on each spike.
We have a number of these and we'll pick out a nice one for you. The pictures show the kind of flowers to expect, and the plants in our greenhouse.
We  ship USPS Priority Mail.
We guarantee  customer satisfaction on delivery.
If there's a problem, please contact us before leaving feedback.
We'll work it out, up to and including a full refund.
When you shop with The Orchid Gallery, you get:
The benefit of our 40 years experience with orchids
Our customer satisfaction guarantee
Our friendly customer service
The chance to ask questions and get free advice
A care sheet with almost every orchid, filled with growing tips
A quality plant, packed by professionals
A tracking number for every order