In Spike Now, Ons. Eye Candy, The Name Says It All. Shipping Included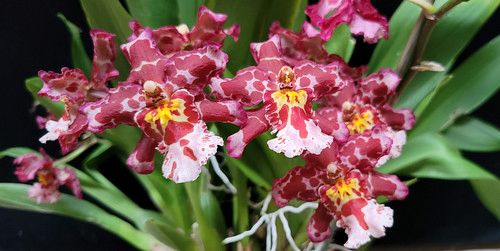 In Spike Now, Ons. Eye Candy, The Name Says It All. Shipping Included
Like Vanilla Ice Cream drenched with cherry syrup, these have red/pink splashes over white and touched with yellow in the center.
You may see these called Oncidium or Wilsonara, The orchid gods keep changing the names on us, right now they are Oncostele Eye Candy.
These are in spike and most have 2 spikes. They will have 5 to 8 or more flowers per 12 to 16 inch spike and will bloom twice a year when happy. Right now they are in 3 1/2 inch pots. They should be in full flower in about 3 or 4 weeks.
Grow in medium light with intermediate to warm temperatures. Water as the potting mix approaches dryness. We grow these in New Zealand sphagnum moss which seems to work best for these. Repot into fresh moss every year or so. If you use a bark mix they can go a little longer between repottings. Fertilize every 3 weeks or close with a balanced fertilizer.
About Shipping
We ship USPS Priority Mail or UPS
We  guarantee customer satisfaction on delivery.
If there's a problem, please contact us.
We'll work it out with you.
When you shop with The Orchid Gallery, you get:
The benefit of our 40 years experience with orchids
Our customer satisfaction guarantee
Our friendly customer service
The chance to ask questions and get free advice
A care sheet with almost every orchid, filled with growing tips
A quality plant, packed by professionals
A tracking number for every order