Blooming Size, Wilsonara Firecat "King Snake"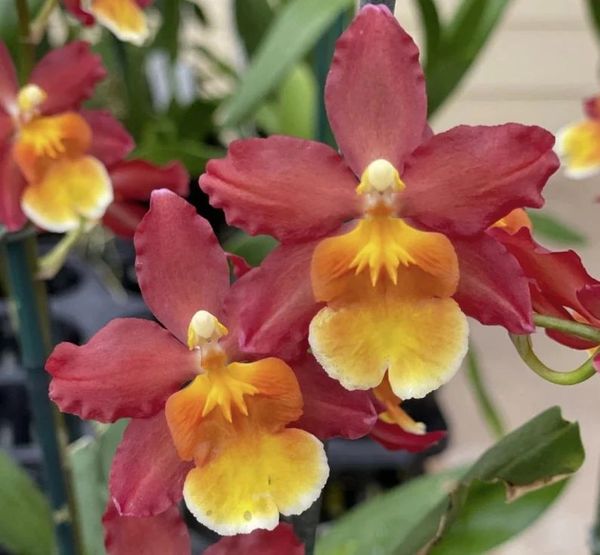 Blooming Size, Wilsonara Firecat "King Snake"
Stunning intergeneric orchid
In spike now & only $35.99
FREE growing instructions and FREE shipping
These should be just delightful
This one is relatively new, and the flowers are relatively wow!
It's in the intergeneric Oncidium family. Flowers are red with shades pumpkin on the lip and the spike produces lots of them, They should last 5 to 7 weeks. The older flowers will fade to a tawny red. These are mericlones, so the color should hold throughout the run.
The breeding is a mix of orchid genera including Cochlioda, Odontoglossum and Oncidium. It can be grown on the cool side, but should do well in the home or in a greenhouse.
These are first-bloom seedlings in 3.5-inch pots, in spike now for the first time. 
Do NOT repot immediately, it may cause the buds to blast. Medium light. Water when almost dry.
We include free growing instructions with each order. DO NOT ADD ICE. Tropical plants have never seen ice -- that's just a marketing gimmick.
Mature plants can have multiple spikes, with a bunch of flowers on each spike.
We have a bunch of these and we'll pick out a nice one for you. The pictures show the kind of flowers to expect, and the plants in our greenhouse.
We include free growing instructions.
You can buy with confidence. We guarantee customer satisfaction upon delivery.
By the way, we don't want to be sending emails to anyone who doesn't want to see our new inventory and orchid specials, so if that's the case, please unsubscribe.
We ship USPS Priority Mail or UPS
When you shop with The Orchid Gallery, you get:
The benefit of our 40 years experience with orchids
Our customer satisfaction guarantee
Our friendly customer service
The chance to ask questions and get free advice
A care sheet with almost every orchid, filled with growing tips
A quality plant, packed by professionals
A tracking number for every order
We are now open to visitors, by appointment
Please note if buy button sends you to a 404 we are sold out of this item.
We do expect more of these to start spiking and there will be more coming along