Previously Bloomed, Dendrobium Enobie Purple, Shipping Included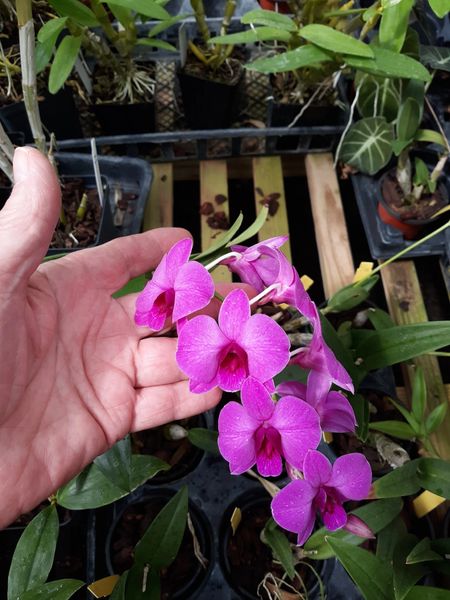 Previously Bloomed, Dendrobium Enobie Purple, Shipping Included
This is one of our favorite dendrobiums. We love the flowers, and we love the fact that it's a compact grower, perfect for windowsill growers or anyone with a space crunch. When mature, they can produce 10 or 12, 2 inch, long-lasting flowers per spike and frequently have 2 or more spikes per cane. They are truly marvelous.
These are clones so you will get flower that look the same as in the photo.
These like bright indirect light and can stand a little sun in the mornings. Allow to get dry or almost dry between waterings.
Dendrobiums are good beginner orchids as they can stand a little abuse. We have a bunch of these and we'll pick out a nice one for you.
About Shipping
We ship USPS Priority Mail or UPS
We  guarantee customer satisfaction on delivery.
If there's a problem, please contact us.
We'll work it out with you.
When you shop with The Orchid Gallery, you get:
The benefit of our 40 years experience with orchids
Our customer satisfaction guarantee
Our friendly customer service
A care sheet with almost every orchid, filled with growing tips
The chance to ask questions and get free advice
A quality plant, packed by professionals
A tracking number for every order