Cloisonné pink flamingo Christmas tree ornament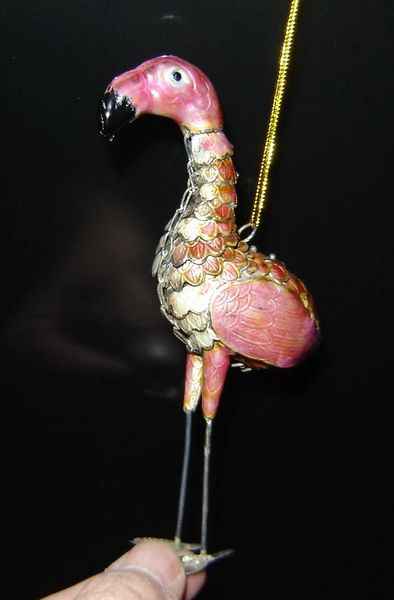 Cloisonné pink flamingo Christmas tree ornament
Hand painted flamingo ornament

Enamel over copper

Looks great on the tree


Comes with gold-tone loop cord for hanging
Love flamingoes? We do; they are majestic birds.
This wonderful little hand-painted flamingo ornament is enameled in shades of pink, black and gold. It comes with a gold-tone filigree loop cord, for hanging. The neck is articulated (it wiggles a bit) for a more realistic look. Measures almost 6 inches high.
These are made of copper, and with proper care they should last for years and years. We think they may well become family keepsakes, handed down from generation to generation.
These look great on the Christmas tree or hanging in a sunny window, sparkling in the light.
They come in a gift box. You can buy with confidence.
We guarantee customer satisfaction upon arrival.
At the Orchid Gallery, we're more than great plants. We offer lots of other quality merchandise and friendly, personalized service.
Cloisonné is an ancient technique for decorating metal objects -- in recent centuries using enamel and in older periods using inlays of cut gems, glass and other materials. The resulting art forms can also be called cloisonné. The decoration is formed by first adding compartments (cloisons in French) to the metal object by soldering or otherwise adhering silver or gold wires. These remain visible in the finished piece, separating the different compartments of the enamel or inlays, which are often of several colors. Enamel is applied, and the artwork is then fired in a kiln. Skilled artists can create wonderful designs.