Holiday tunes from the Woodsy Four band - 12-card set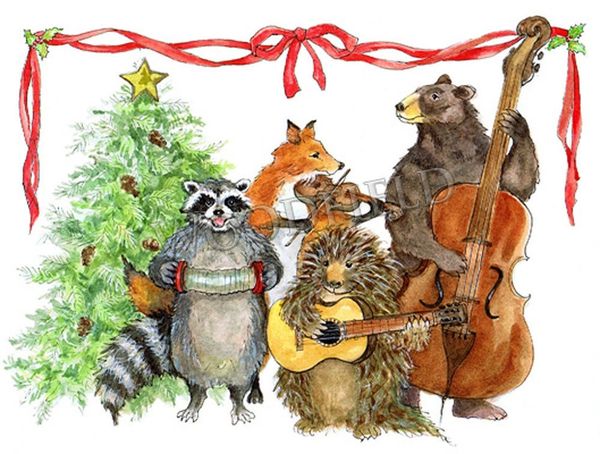 Holiday tunes from the Woodsy Four band - 12-card set
Never too early to get your Christmas cards
Set of 12 identical cards & envelopes
Reproduction of an original watercolor
The Woodsy Four jam band, cranking holiday tunes

Blank inside, write your own greeting
This is a boxed set of 12 Christmas cards featuring an original watercolor painting by New Hampshire artist Cindy Hendrick.
The set contains twelve 4-1/8" x 5-1/2" cards, each with the same image, printed on sturdy, heavyweight paper for stand-up display. They are blank inside, so you can write a personalized holiday message.

The back of each card reads: "...if we can but sing and true harmonies hold, we'll bring back the sun and lessen the cold."

These cards feature a racoon on the squeeze box, a bear on bass, a fox on the fiddle and a porcupine on guitar.
These cards are a testament to your good taste. Printed on recycled paper.

Call us old school, but when you take the time to send a real card, not just an email, it means that much more.

Note: the watermark will NOT be on the cards you receive.
At the Orchid Gallery, we're more than just orchids. We offer lots of other cool things as well.