Hard to find Paph armeniacum, near blooming size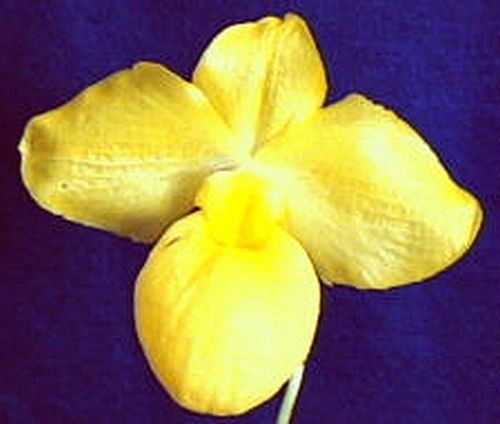 Hard to find Paph armeniacum, near blooming size
This is a species orchid miniature, native to China, that puts out spectacular yellow flowers ranging in tone from rich lemon to jonquil to egg yolk, with a speckling of magenta.
They are simply a must-have in every paph collection.
Award winning flowers can have a natural spread of 8.5 cm or so and be breathtakingly beautiful.
These are easy growers, too. In their native habitat winters are cool, wet, and cloudy, and the summers are bright, warm and dry. We try to mimic the conditions in their natural habitat although not to the extreme found in southern China.
Fertilize weakly every two to three weeks. Use distilled water now and again to wash away salts in the mix. Repot in the spring after flowering or in the fall using a medium grade bark mix.
These plants are in two-inch pots with a leaf span of 2.5 to 3 inches or so. These are minature orchids and they bloom when rather small.We always ship the largest.

About shipping
We  ship USPS Priority Mail.
We guarantee  customer satisfaction on delivery.
If there's a problem, please contact us before leaving feedback.
We'll work it out, up to and including a full refund.
When you shop with The Orchid Gallery, you get:
The benefit of our 40 years experience with orchids
Our customer satisfaction guarantee
Our friendly customer service
The chance to ask questions and get free advice
A care sheet with almost every orchid, filled with growing tips
A quality plant, packed by professionals
A tracking number for every order