Hard to find Masdevallia Pinot Noir orchid, blooming size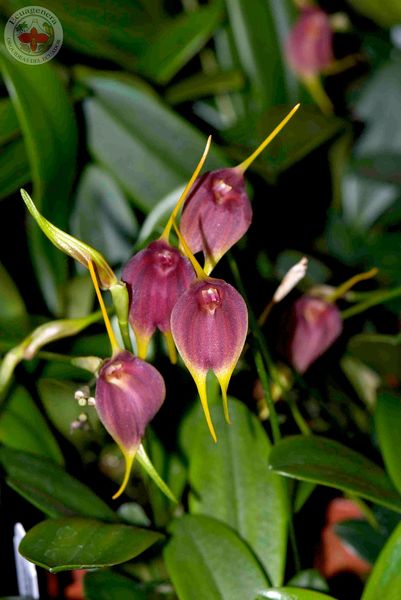 Hard to find Masdevallia Pinot Noir orchid, blooming size
This hybrid orchid is Masdevallia amplexa x Masdevallia calura. It's a cool grower. The parents are found high up on mountain slopes (4,000 feet and up) in a cloud forest environment. The triangular flowers are just beautiful. This one is blooming size in a 4-inch pot and we think it's likely to flower inside a year if properly grown.
These hard-to-find, fast-growing, compact plants are perfect for windowsill growers and those with limited space. And the great thing is that they can produce blooms several times a year.
Multiple spikes are common in mature plants. Keep this plant cool and moist and grow in bright indirect light. Use a humidity tray if your home is exceptionally dry. The leaves are 3 to 4 inches long. Recently repotted, so you may see a leaf or two drop, but that's common when orchids are repotted.
The first picture shows typical flowers; the second shot is the plant you are purchasing, in a 3-inch pot.
Remember, use a humidity tray if your home is exceptionally dry.
Mature plants can have LOTS of flowers. 
FYI, we don't recommend masdevallias for beginners.
Sorry, NO shipping into areas where the daytime highs are below 32 degrees.
About Shipping
We ship USPS Priority Mail
We  guarantee customer satisfaction on delivery.
If there's a problem, please contact us before leaving feedback.
We'll work it out with you, up to a full refund.
We may delay shipping if it's too cold or too hot where you are.
When you shop with The Orchid Gallery, you get:
The benefit of our 40 years experience with orchids.
Our customer satisfaction guarantee.
Our friendly customer service.
The chance to ask questions and get free advice.
A care sheet with almost every orchid, filled with growing tips.
A quality plant, packed by professionals.
A tracking number for every order.