Hard to find Bulbophyllum trigonosepalum, large seedling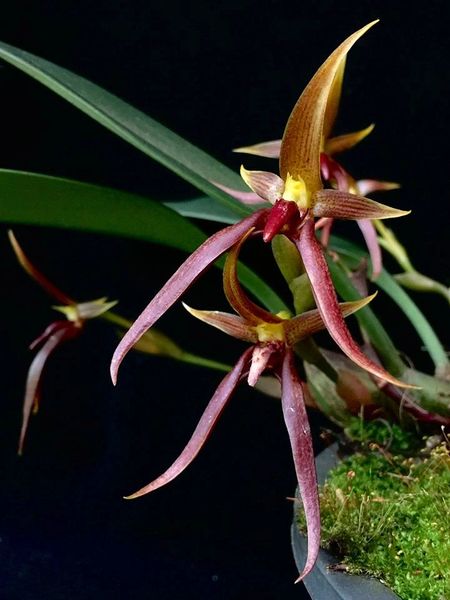 Hard to find Bulbophyllum trigonosepalum, large seedling
You don't see this one every day.
Bulbophyllum trigonosepalum is native to the Philippines and known for producing really pretty flowers that can, like a lot of bulbos, have an unpleasant odor. Probably because they evolved to attract flies as pollinators.
The flowers can be several inches long and the ascending flower spike emerges from the base of the pseudobulb. The plant itself is something of a miniature, and probably won't get much taller than 6 to 8 inches. Something of a sequential bloomer.

Inflorescences will produce 3-5 flowers over a period of 2 months, producing 1 to 2 flowers at a time.  Individual flowers are 2 to 3 inches high.
The ones we have are seedlings, just moved out of a grow tray and repotted into 3-inch pots. They have two to three pseudobulbs, and we always ship the largest.
We're guessing 18 to 24 months before you'll see a flower, but well worth the wait. You won't see many of these on the show table at an orchid society meeting.
About Shipping
We ship USPS Priority Mail or First Class Mail
We  guarantee  customer satisfaction on delivery.
If there's a problem, please contact us before leaving feedback.
We'll work it out with you, up to a full refund.
When you shop with The Orchid Gallery, you get:
The benefit of our 40 years experience with orchids
Our customer satisfaction guarantee
Our friendly customer service
The chance to ask questions and get free advice
A care sheet with almost every orchid, filled with growing tips
A quality plant, packed by professionals
A tracking number for every order