Greenhouse Rabbit - whimsical watercolor print, for framing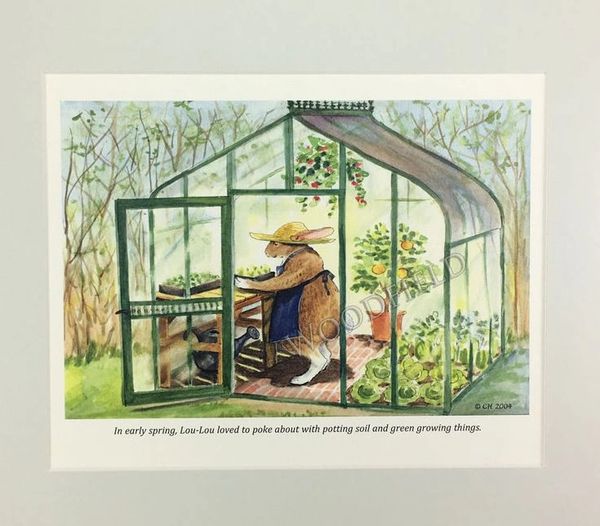 Greenhouse Rabbit - whimsical watercolor print, for framing
FREE shipping
This print features an original watercolor by New Hampshire artist Cindy Hendrick.
Suitable for framing, the print features a charming Mama Rabbit, puttering in her greenhouse. It's perfect for a kid's room, a hallway, a dormitory room, anywhere you need a smile.
The print measures 8.5 by 11 inches, and ships already matted to fit an 11- by 14-inch frame (not supplied).
These are printed on off-white paper made of 100 percent cotton using long-lasting, high-quality inks. There's a story line at the bottom of the print that reads:
"In early spring, Lou-Lou loved to poke about with potting soil and green growing things."
Ms. Hendrick uses pen and ink and watercolors to create images that show off her love of nature and the woodland and coastal animals and landscapes of New England. A lot of her work reminds us of illustrations in that wonderful book, "The Wind in the Willows."

The watermark will not show on the print that you receive.
We ship in sturdy chipboard packaging to prevent folding. And we guarantee customer satisfaction. If you're not happy with what you receive, simply return it for a full refund.