Fragrant Zygopabstia Dragon Kitten orchid seedling, nicely started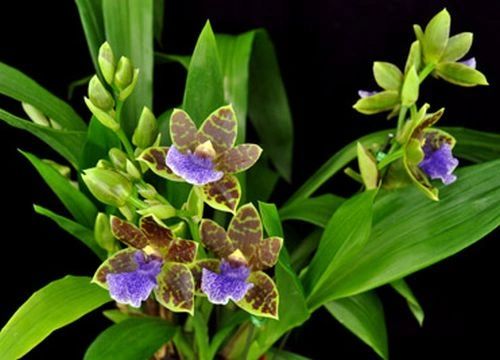 Fragrant Zygopabstia Dragon Kitten orchid seedling, nicely started
Easy to grow

Large seedlings, 3 inch pots


In the Zygopetalum family of orchids
We love zygopetalums because they are easy to grow and produce wonderfully fragrant flowers with mahogany spots over olive green in the petals and sepals, and a wonderful blue / purple lip.
This one is Zygopabstia Dragon Kitten --  Zygopetalum Artur Elle x Zygopabstia Blue Ribbon. These are clones of the 'Purr' cultivar.

Grow this one in bright indirect light, in a temperature range of 55 to 85 degrees. Try not to let it dry out completely, but don't keep it sopping wet. Fertilize twice a month, weakly. We include free growing instructions. One of these in bloom at an orchid show would sell for $45  or more, so be patient, and enjoy the blooms when it flowers.
These are large seedlings in a three-inch pot. We'll pick out a nice one for you. We always ship the largest.
This orchid's generic name, derived from the Greek word "zygon", means "yoked petal." It refers to the yoke-like growth at the base of the lip caused by the fusion of petals and sepals They occur in humid forests in South America at low- to mid-elevation regions, with most species found in Brazil.

About Shipping
We ship USPS Priority Mail or First Class Mail
We  guarantee  customer satisfaction on delivery.
If there's a problem, please contact us before leaving feedback.
We'll work it out with you, up to a full refund
When you shop with The Orchid Gallery, you get:
The benefit of our 40 years experience with orchids
Our customer satisfaction guarantee
Our friendly customer service
The chance to ask questions and get free advice
A care sheet with almost every orchid, filled with growing tips
A quality plant, packed by professionals
A tracking number for every order