Fragrant Sedirea japonica species orchid seedling, somewhat rare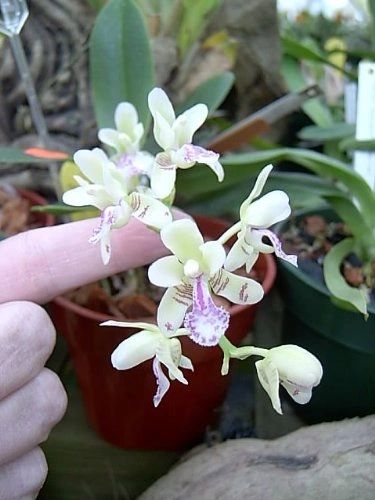 Fragrant Sedirea japonica species orchid seedling, somewhat rare
In the Vanda family of orchids

Grow like a phalaenopsis

FREE Shipping


Not in bloom now
This is a really interesting and amazingly fragrant little orchid called Sedirea japonica.

It's a member of the Vanda family, but you grow it like a phalaenopsis, in a pot in moderate indirect light. These are native to Japan and Korea.

The thumbnail size pink and cream flowers are very attractive, but the really cool thing is that they smell like night-blooming jasmine – just wonderful, but not too sweet. And they are are fragrant both day and night.

We have a bunch of these and they are coming along nicely. We'll pick out a nice one for you. We always ship the largest. They are one to two years away from first blooms, but with luck some might bloom next winter. The leaf span is 4 to 5 inches and they are growing in 3 inch pots. A mature plant can have six or seven spikes at once.

These are considered compact growers, so if you have a space crunch they are ideal additions to your orchid collection.
About Shipping
We ship USPS Priority Mail or First Class Mail
We  guarantee customer satisfaction on delivery.
If there's a problem, please contact us before leaving feedback.
We'll work it out with you, up to a full refund.
When you shop with The Orchid Gallery, you get:
The benefit of our 40 years experience with orchids
Our customer satisfaction guarantee
Our friendly customer service
The chance to ask questions and get free advice
A care sheet with almost every orchid, filled with growing tips
A quality plant, packed by professionals
A tracking number for every order