Fragrant Dendrobium kingianum orchid blooming size, white flowers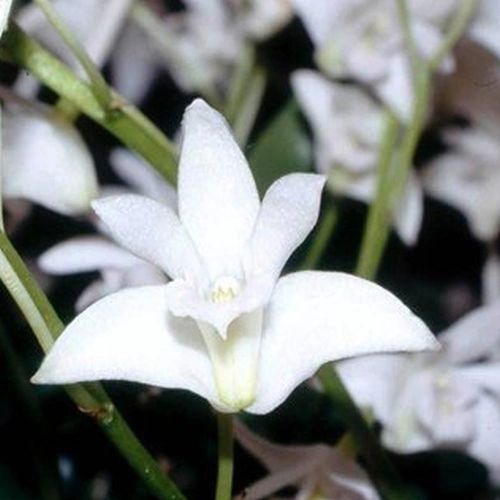 Fragrant Dendrobium kingianum orchid blooming size, white flowers
Blooming size but NOT IN FLOWER now
Free growing instructions
Will produce lovely, fragrant orchid flowers

These orchids, native to eastern Australia, put out small white flowers with a giant-size fragrance. And they are relatively compact, attractive plants, even when not in bloom.

Dendrobium kingianum, also called the white or pink rock orchid for both its color and natural habitat, grows normally down to 35 degrees, but does best in a warmer environment.  You can grow these on an east windowsill.

These are excellent beginner's orchids because they can withstand a broad range of temperatures and an occasional lapse in the watering schedule.

The first picture shows typical flowers; the second picture shows some blooming size kingianums that we just repotted. We'll pick out a nice one for you and ship it right in the pot.

CAUTION: NO shipping to any locations where the nightly lows are below 32 degrees.
Sorry, but we can't hold this order for you.

We ship USPS
We  guarantee customer satisfaction on delivery.
If there's a problem, please contact us before leaving feedback.
We'll work it out with you, up to a full refund.

When you shop with The Orchid Gallery, you get:
The benefit of our 40 years experience with orchids.
Our customer satisfaction guarantee.
Our friendly customer service.
The chance to ask questions and get free advice.
A care sheet with almost every orchid, filled with growing tips.
A quality plant, packed by professionals.
A tracking number for every order.