Exotic Phrag Grande orchid - longifolium x caudatum - blooming size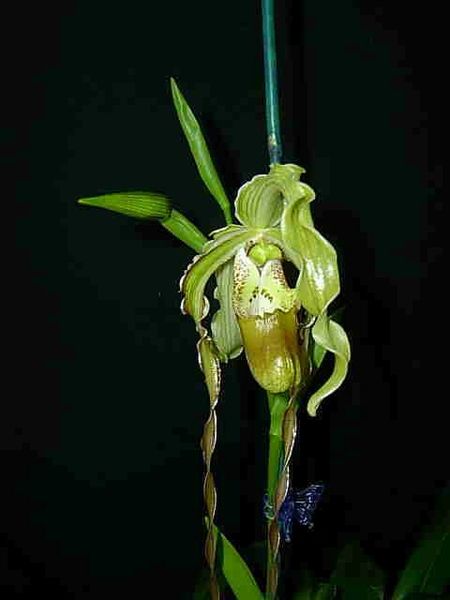 Exotic Phrag Grande orchid - longifolium x caudatum - blooming size
* Will produce lovely flowers
* Easy to grow
* Multifloral
Put a little more exotic into your orchid collection.

These phragmipedium orchids produce just lovely green and ocher / mahogany flowers, and they just seem to get better and better on each new blooming.
Phrag Grande, a hybrid between longifolium and caudatum, is one of the most popular and striking phragmipediums.
They produce large, long-petaled ladyslipper-type flowers. The color ranges from pink through ocher through green. We expect this particular cross to be more on the pinkish side, but as with all seed crosses, color can be variable.
Mature plants can carry three to five flowers open at the same time on each spike. And frequently they will produce two or three additional flowers after the first ones fade away.
The picture shows the flowers on one of our stud Grandes; the second picture shows the kind of plant you are purchasing, with two large growths in a 4-inch pot and a 20-plus inch leaf span. We have a number of these and we'll pick out a nice one for you.


About Shipping
We ship USPS Priority Mail or First Class Mail
We  guarantee customer satisfaction on delivery.
If there's a problem, please contact us before leaving feedback.
We'll work it out with you, up to a full refund.
When you shop with The Orchid Gallery, you get:
The benefit of our 40 years experience with orchids
Our customer satisfaction guarantee
Our friendly customer service
The chance to ask questions and get free advice
A care sheet with almost every orchid, filled with growing tips
A quality plant, packed by professionals
A tracking number for every order