Easy to grow Howeara Lava Burst orchid seedling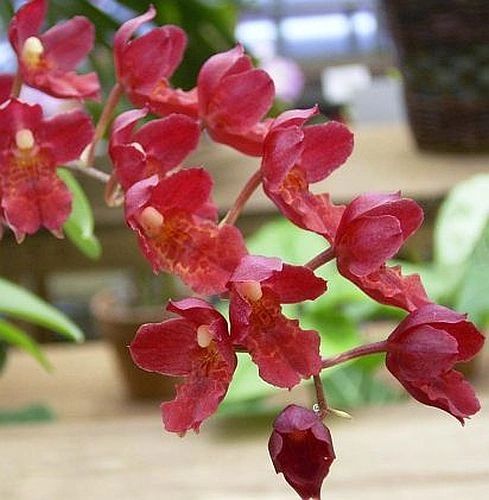 Easy to grow Howeara Lava Burst orchid seedling
 FREE shipping
This one is Howeara Lava Burst, a miniature orchid that is a real cutie, and super easy to grow. These are seedling size, freshly repotted into 3-inch pots.

Lava Burst is an intergeneric hybrid (Howeara Mini-Primi x Rodriguezia lanceolata). But forget all that orchid-speak and just enjoy the bright red flowers. Some mature plants have 100 or more blooms all at once.
These guys can flower twice a year once mature, with multiple sprays of deep red, long lasting flowers. We think you can expect first flowers within a year if properly grown.

This is a compact plant -- about 10 inches high when mature -- so it's great for windowsill growers and folks with not a lot of space. Grow these in moderately bright indirect light. Water when almost completely dry. Fertilize twice a month, rather weakly. You pretty much can't go wrong.
We'll pick out a nice one for you and ship freshly repotted. The picture shows the kind of flowers to expect, and some of the plants. We will ship in the pot.
At The Orchid Gallery, we offer quality plants and friendly, personalized service. Our grower inspects every plant we ship.  
About Shipping
We ship your plants Priority Mail via the USPS.
We  guarantee  safe delivery.