Easy to be green with Rlc. Bill Blietz cattleya orchid blooming size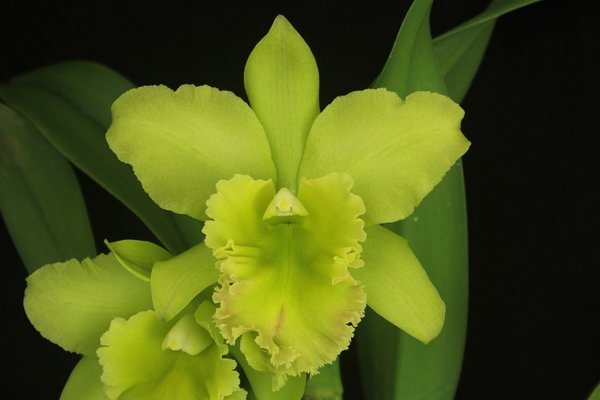 Easy to be green with Rlc. Bill Blietz cattleya orchid blooming size
Blooming size, but NOT IN FLOWER now

Flowers are a beautiful orchid green

In the cattleya family

Comes with free growing instructions
If you like green orchid flowers (they can be simply stunning) then this orchid is for you. The flowers are just spectacular, and this is a relatively new hybrid, registered in 2013.
NOTE: Blooming size, but NOT IN FLOWER now.
The breeding on this one is Rlc. Ports of Paradise x Rlc. Ioa Valley, the latter named for a park in Hawaii. There's some digbyana in the background, but most of us can forget all that orchid-speak and just enjoy the flowers when it blooms. These are mericlones of the 'Exotic Orchids' cultivar.
These are large plants in 3.5 inch pots and they have reached blooming size. The longest leaves are 10 to 12 inches and we think they could bloom almost anytime now. The first picture shows a typical flower; the second picture shows the kind of plant you are purchasing.
We have a number of these and we'll pick out a nice one for you. Allow to dry completely between waterings. Morning sun and then bright shade. Fertilize weakly weekly. A mature plant like this in full bloom at an orchid show would cost $50 or more.
About Shipping
We ship USPS Priority Mail or First Class Mail
We guarantee customer satisfaction on delivery.
If there's a problem, please contact us before leaving feedback.
We'll work it out with you, up to a full refund.
When you shop with The Orchid Gallery, you get:
The benefit of our 40 years experience with orchids
Our customer satisfaction guarantee
Our friendly customer service
The chance to ask questions and get free advice
A care sheet with almost every orchid, filled with growing tips
A quality plant, packed by professionals
A tracking number for every order