Dracula Raven Asymb X vampira, Spectacular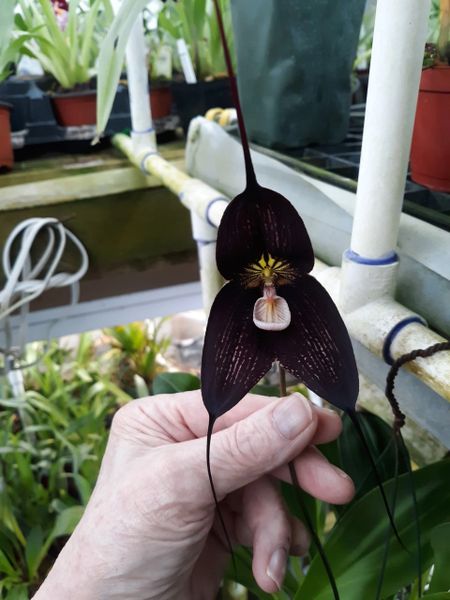 Dracula Raven Asymb X vampira, Spectacular
While this hybrid is utterly gorgeous, it is not for beginners. The flowers have a natural spread of 10 inches or so but they need high humidity for the buds to develop and the flowers to stay open. This is one of the draw backs to the large flowered Draculas. The one in the third picture is one we are keeping. It has 9, 18 inch long sequentially blooming spikes. The length of the spikes makes it hard to get a good photo. The plants offered for sale are in 3 inch hanging baskets and should bloom within a year if they are happy. Keep them cool and in a high humidity environment. We grow them in sphagnums under lights. They are good for folks who grow Masdevallias and other cool growers. Don't ever let them get dry. Fertilize every 2 to 3 weeks with a dilute balanced fertilizer.
We ship USPS or UPS usually within 1 or 2 business days.
We  guarantee customer satisfaction on delivery.
If there's a problem, please contact us.
We want you happy and successful.
When you shop with The Orchid Gallery, you get:
The benefit of our 50 years experience with orchids
Our customer satisfaction guarantee.
The chance to ask questions and get free advice.
Our friendly customer service. A care sheet with almost every orchid, filled with growing tips.
A quality plant, packed by professionals.
A tracking number for every order.