Dracula cordobae, near blooming size, cool growing orchid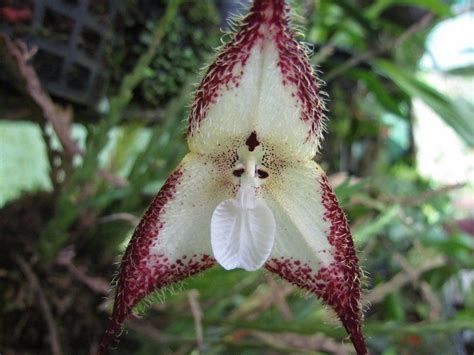 Dracula cordobae, near blooming size, cool growing orchid
Draculas have gorgeous flowers but remember they are not for beginners. Though, if you want to try Draculas, this is one of the easier and more rewarding species. They have spectacular 4 inch cream colored flowers edged in red. The spikes generally emerge from the bottom of the plants and for this reason they are grown in hanging baskets. The flowers last around 2 weeks and the spikes bloom sequentially, often producing 6 or more flowers over a period of months. 
In nature they grow from about 2000 to 3000 feet in the montane forest of southwest Ecuador. They need cool temperatures from 60 to 75 max and high humidity.  They need lots of water, we water them daily in the summer and nearly that much in winter. We grow them under lights in a bark and sphagnums mix in hanging baskets. We use a dilute balanced fertilizer every 2 weeks. Because they like so much water they should be repotted at least once a year if not more often. They can be grown in an east exposure but they don't react well to direct sun.  
These are seed grown so there may be minor variations in color and size. They are in 3 inch hanging baskets and should bloom within a year or so if they are happy. 
About Shipping
We ship USPS Priority Mail or UPS
We  guarantee customer satisfaction on delivery.
If there's a problem, please contact us.
We'll work it out with you.
When you shop with The Orchid Gallery, you get:
The benefit of our 40 years experience with orchids
Our customer satisfaction guarantee
Our friendly customer service
The chance to ask questions and get free advice
 A care sheet with almost every orchid, filled with growing tips
A quality plant, packed by professionals
A tracking number for every order