Dendrochilum formosanum species orchid blooming size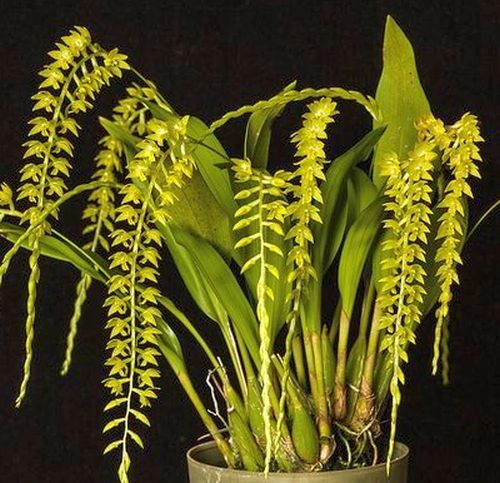 Dendrochilum formosanum species orchid blooming size
NOT in flower now.
USPS is in melt-down. We are switching to UPS for shipping.

Also called Dendrochilum uncatum, this species orchid is native to the Philippines and Taiwan. These plants recently finished blooming with multiple spikes, and will bloom again in season.  Expect dozens if not hundreds of tiny yellow flowers.

These are very cool, if we do say so ourselves. Grow in indirect light.  Good air movement is very helpful. Keep somewhat moist. Probably not a good orchid for beginners. But it does grow relatively quickly and can bloom several times a year if it's happy. Potted in sphagnum moss.

It's somewhat related to Dendrochilum glumaceum, which has white-ish flowers.  Dendrochilum formosanum produces arching chains of fragrant, bright yellow flowers that make a spectacular display on mature plants. Some award winners have featured as many as 250 spikes with 45 to 50 flowers per spike. The flowers are small, about 1 cm wide.
You can buy with confidence. We guarantee customer satisfaction upon delivery.
About Shipping
When you shop with The Orchid Gallery, you get:

A tracking number for every order
A quality plant, packed by professionals
A care sheet with almost every orchid, filled with growing tips
The chance to ask questions and get free advice
Our friendly customer service
Our customer satisfaction guarantee
The benefit of our 40 years experience with orchids
We  guarantee customer satisfaction on delivery.
We ship USPS Priority Mail or First Class Mail