In bud now, Dendrobium Little Sweet Scent orchid in 2.25-inch pot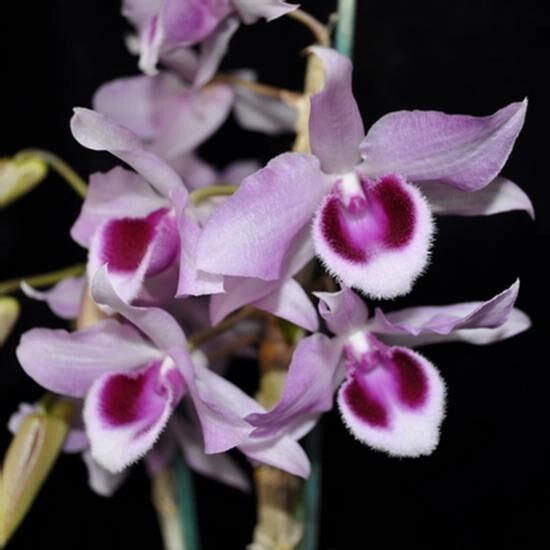 In bud now, Dendrobium Little Sweet Scent orchid in 2.25-inch pot
CAUTION: In areas where the daytime temps are below freezing we may need to delay shipping. Even with heat packs and insulated boxes it isn't safe. For everyone else we ship on normal schedule.
These are budding now and they will produce beautiful, lightly fragrant flowers. 
Remember these are decidious. They drop their leave in the fall and then bloom on the leafless cane. The canes are now 8 to ten inches tall but they will get larger as the plants mature.

Den. Little Sweet Scent is Dendrobium anosmum x Dendrobium rhodopterygium.

These are spring bloomers and they grow well in dappled light -- maybe even a little morning sun. Allow to dry completely or almost completely before watering again. Cut back on water a bit in January and February, then expect to see the buds begin to develop, probably in the spring. This batch seems to be budding a bit early, but then orchids do whatever they want. 

This plant is semi-deciduous, and will lose some or all of its leaves, so don't be surprised when they start to drop. The flowers will appear on the canes that recently lost their leaves. Do NOT cut the older canes as they are water storage for the plant.

These are not your run-of-the-mill grocery store phals. When they bloom they are truly spectacular and when mature can have dozens of delightfully fragrant flowers. This is an orchid that is worth having in your collection. Fun to grow up.

We always ship the largest. They stand 8 to 10 inches high, measured from the bottom of the pot. Be advised they can get rather large.

They do well mounted or in a hanging basket, so feel free to replant if you like.

The picture shows the kind of flowers to expect, and the plants in our greenhouse. We have a bunch of these and we'll pick out a nice one for you. We include free growing instructions.

We ship Priority Mail, anywhere in the U.S or its territories.


About Shipping
We ship USPS Priority Mail or First Class Mail
We  guarantee customer satisfaction on delivery.
If there's a problem, please contact us.
We'll work it out with you, up to a full refund.
When you shop with The Orchid Gallery, you get:
The benefit of our 40 years experience with orchids
Our customer satisfaction guarantee
Our friendly customer service
The chance to ask questions and get free advice
A care sheet with almost every orchid, filled with growing tips
A quality plant, packed by professionals
A tracking number for every order