Previously Bloomed, Den. ceraula "Ricardo" X self, Seedlings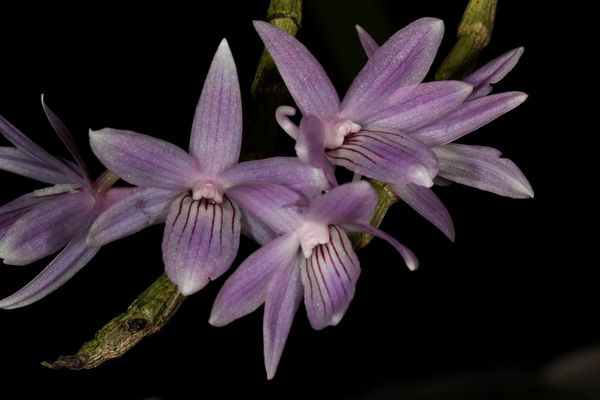 Previously Bloomed, Den. ceraula "Ricardo" X self, Seedlings




Dendrobium ceraula is an uncommon species with beautiful 1 to 1/12 inch, blue to light purple

 flowers forming in clusters on the canes.  When mature they can bloom several times a year and the old canes can continue to produce flowers for a couple of years. The flowers look delicate, but they can last 2 months or more. And a plus, they are fragrant.

These are seedlings grown from a self pollination of  Den ceraula 'Ricardo' and have finished blooming for the first time. As with all seed grown orchids there may be some minor variations in the flowers. 

These are in 2 1/2 inch pots. They can be grown staked in pots or in hanging baskets because the canes are naturally pendant. They can grow to 12 to 16 inches in lenght.

Like many Dendrobiums, ceraula is deciduous. They may drop some or all of their leaves as winter approaches and they rest. During the growing season they need bright light, warm temperatures, regular watering and fertilizing. Reduce watering and don't fertilize during the rest period. Resume normal watering etc. when the new growth emerges.

 About Shipping

We ship USPS or UPS usually within 1 or 2 business days.

We  guarantee customer satisfaction on delivery.

If there's a problem, please contact us.

We want you happy and successful.

When you shop with The Orchid Gallery, you get:

The benefit of our 50 years experience with orchids

Our customer satisfaction guarantee.

The chance to ask questions and get free advice.

Our friendly customer service. A care sheet with almost every orchid, filled with growing tips.

A quality plant, packed by professionals.

A tracking number for every order.