Delightful Dendrobium Chocolate Chip orchid, in bud now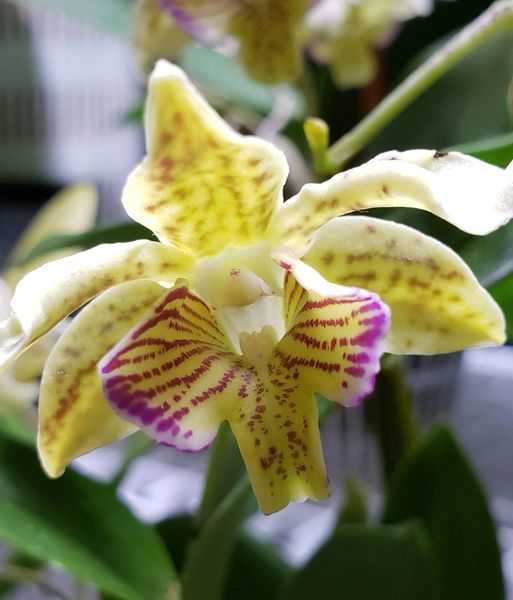 Delightful Dendrobium Chocolate Chip orchid, in bud now
Flowers can last two months or more
A miniature, ideal for those with a space crunch
Sorry, no shipping into extreme cold.
This one is what's called a Latouria dendrobium. Species in this section are characterized by large flowers usually white, yellow or green with black or purple markings on the inner surfaces.

This one is a hybrid, Den. Micro Chip crossed with Den. normanbyense.

It's a unique miniature orchid that puts out sprays of delicate, speckled, white flowers. The speckles on this one give it it's name -- Chocolate Chip. The chips are on the back side of the flowers. Said to be lightly fragrant at certain times of the day. Some folks think the flowers smell like cinnamon.
These are in bud now; expect flowers in 3 to 4 weeks. These are in 3-inch pots; do not repot until the flowers come and go. They are in grow pots, so you might want to slip the plastic pot inside something a little more attractive.

Water sparingly. Bright, indirect light. Good air movement helps. We have a bunch of these and we'll pick out a nice one for you.
About Shipping
When you shop with The Orchid Gallery, you get:

A tracking number for every order
A quality plant, packed by professionals
A care sheet with almost every orchid, filled with growing tips
The chance to ask questions and get free advice
Our friendly customer service
Our customer satisfaction guarantee
The benefit of our 40 years experience with orchids
We  guarantee customer satisfaction on delivery.
We ship USPS Priority Mail or First Class Mail