Degarmoara Shibumi oncidium orchid previously bloomed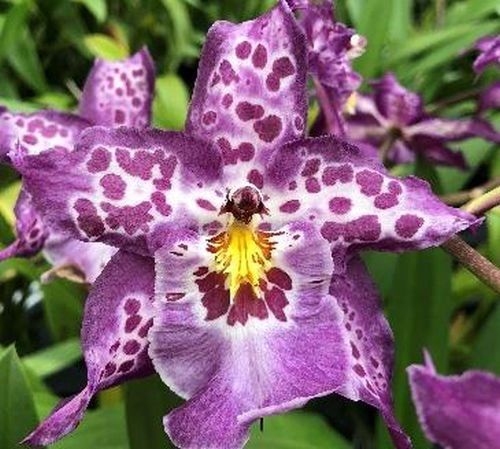 Degarmoara Shibumi oncidium orchid previously bloomed
Free Shipping

Easy to grow, instructions included

Will produce beautiful flowers

Great windowsill plant
Technically called a Wilhelmara, this one is an intergeneric hybrid that puts out a spray of lovely flowers on a long stem.
The breeding is Rhynchonia Honolulu Rain x Bratonia Charles M. Fitch, but unless you're really into orchid nomenclature, we recommend you simply enjoy the lovely flowers when they bloom.
This one is a mericlone, and the flowers will look like the one pictured, a stunning purple and white with a yellow center. These plants are in 3.5 inch pots, and they are blooming size, standing 15 inches high or more with several pseudobulbs.

They are easy to grow, too. Provide bright indirect light and a temperature range of 60 to 85 degrees. Allow to get almost dry, but not quite, between waterings, like a phal. Fertilize twice a month or so.
You can buy with confidence.
We will ship in the pot.
We guarantee customer satisfaction on arrival.