Cymbidium Peter Fire 'Torch' orchid, blooming size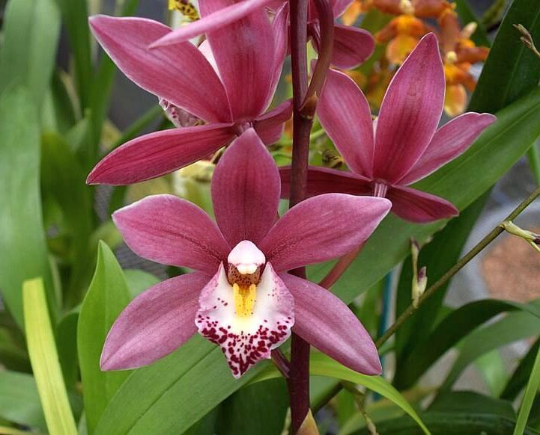 Cymbidium Peter Fire 'Torch' orchid, blooming size
Free Shipping

Easy to grow, instructions included

Blooming size, but NOT in flower now
This one is Cymbidium Peter Fire, which gets its name from its parents, Cym. Peter Pan x Cym. Winter Fire. The blooms should be just beautiful, a burgundy pinkish red with dark red spots on the lip and a little yellow in the center.
These are standard cymbidiums, blooming size, in 4 inch pots, with multiple growths.
They are big plants, standing 24 inches high or more. Multiple pseudobulbs.

We include free growing instructions. These should bloom reliably every year once they get started, if properly grown. We have a bunch of these and we'll pick out a nice one for you. You won't need to repot until the bulbs break the pot -- at least a year from now.
Grow these in moderately bright indirect light. Keep moist. Fertilize twice a month, rather weakly. You pretty much can't go wrong. The pictures show the kind of flowers to expect, and one of the plants.
About Shipping
We ship your plants Priority Mail via the USPS.
We guarantee customer satisfaction on delivery.