In spike Now, Huge, Oncostele Wildcat 'Golden Red Star' Mericlone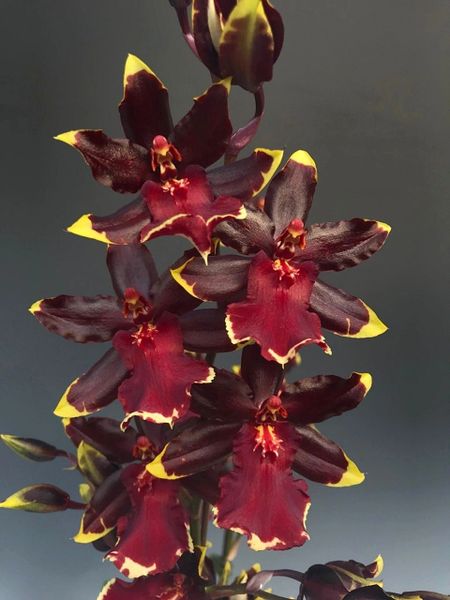 In spike Now, Huge, Oncostele Wildcat 'Golden Red Star' Mericlone
Free Shipping

Easy to grow, instructions included
Will produce beautiful flowers


Stunning windowsill plant
Technically called Oncostele Wildcat, but you might see it called Wilsonara or sometimes Colmanara. This one is an intergeneric hybrid that puts out a 2 to 3 foot spike of stunning dark red 1/12 to 2 inch flowers bordered in bright gold. 40 to 50 flowers on a single branching inflorescence is not unusual.
The breeding is Oncostele Rustic Bridge x Oncidium Crowborough, but unless you're really into orchid nomenclature, we recommend you simply enjoy the lovely flowers when they bloom in a dark red outlined in gold.
This one is a mericlone, and the flowers will look like the one pictured. These plants are in 4 inch pots, and already have tall spikes. They should be in full flower in 2 to 3 weeks. A plus is the fact that when they are happy they can bloom twice a year.
They are easy to grow, too. Provide bright indirect light and a temperature range of 60 to 85 degrees. Allow to get almost dry, but not quite, between waterings, like a phal. Fertilize twice a month or so.
We will ship in the pot via UPS or USPS
We  guarantee customer satisfaction on delivery.
Our customer satisfaction guarantee.
Our friendly customer service.
If there's a problem, please contact us.
We want you happy.
When you shop with The Orchid Gallery, you get:
The benefit of our 50 years experience with orchids
The chance to ask questions and get free advice.
A care sheet with almost every orchid, filled with growing tips.
A quality plant, packed by professionals.
A tracking number for every order.