Charming Wilhelmara Pinot Princess, Blooming size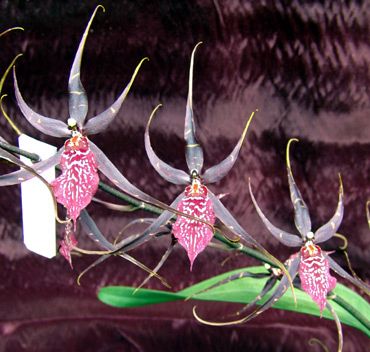 Charming Wilhelmara Pinot Princess, Blooming size
These are huge plants and should come into spike at any time. The deep red of the petals looks almost black.
This one is another relatively new hybrid (registered in 2007), bred to produce dark purple flowers with a lavender lip. T
he breeding is Rhynchostele bictoniensis x Bratonia Kauai's Choice. But unless you are really into all that orchid-speak, you can just relax and enjoy the flowers when they bloom. They can have 12 to 14 flowers on a spike, with a natural spread of up to 6 inches.
Large plants, 16 to 20 inches high, large pseudobulbs.
The great thing about these orchids is that they grow so quickly and easily that just about everyone can be successful raising them. The flowers arch gracefully on a long stem. These are great plants for anyone who likes unusual flowers. And they are easy to grow.
Note: You may also see this as a Degarmoara, but who cares they're always changing orchid names.

You can buy with confidence. We guarantee customer satisfaction upon delivery.
And we include free growing instructions. Medium light and water are best, fertilize weakly twice a month. We have a bunch of these and we'll pick out a nice one for you. At The Orchid Gallery, we offer quality plants and friendly, personalized service. Our grower inspects every plant we ship.
About Shipping
We ship USPS Priority Mail or First Class Mail
We  guarantee customer satisfaction on delivery.

If there's a problem, please contact us before leaving feedback.

We'll work it out with you, up to a full refund.

 

When you shop with The Orchid Gallery, you get:

The benefit of our 40 years experience with orchids

Our customer satisfaction guarantee

Our friendly customer service

The chance to ask questions and get free advice

A care sheet with almost every orchid, filled with growing tips

A quality plant, packed by professionals

A tracking number for every order