Cattleya Memoria Robert Strait 'Blue Hawaii' large seedling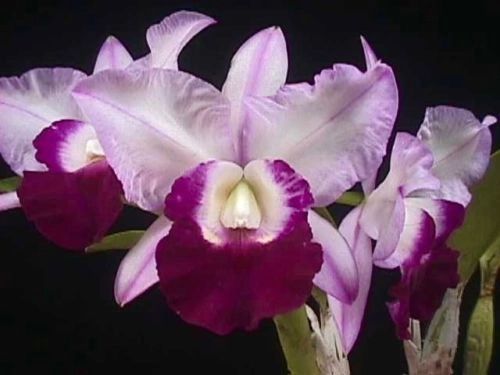 Cattleya Memoria Robert Strait 'Blue Hawaii' large seedling
Free Shipping

Easy to grow, instructions included

Will produce beautiful flowers, often fragrant

Great windowsill plant

Seedling size, but NOT in flower now
This is one of our all-time favorite cattleya hybrids.
You get big flowers, and with this cultivar you get more of a dark red lip, with lavender in the petals and those wonderful chip flares -- one could hardly ask for more.
The breeding is Cattleya walkeriana x Cattleya Wayndora. This particular orchid is a clone of the 'Blue Hawaii' cultivar, which has an AM from the American Orchid Society. Whatever.
The flowers are what count, and they are just lovely. And they are fragrant.
These are large seedlings, which means we think they are likely to flower in 24 months or so. They are in 2 inch pots and each has four or five pseudobulbs.

We have a number of these and we'll pick out a nice one for you. We always ship the largest.
These like bright indirect light. Allow to get dry or almost dry between waterings.
Cattleyas are good beginner orchids as they can stand a little abuse.
You can buy with confidence.
We guarantee customer satisfaction upon delivery.