Carpenterara Sydney Smith AM/AOS Orchid, in Spike Now, Beautiful Flowers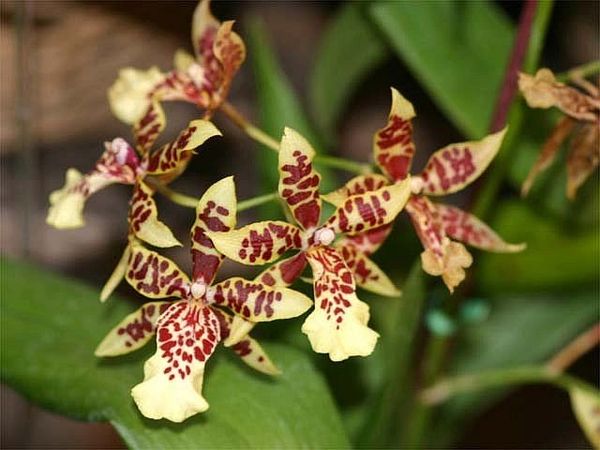 Carpenterara Sydney Smith AM/AOS Orchid, in Spike Now, Beautiful Flowers
Easy to grow, instructions included
Will produce beautiful flowers
Great windowsill plant
In spike now, expect flowers in 3 to 4 weeks

Carpenterara Sydney Smith 'Green Monkey' AM/AOS, in spike, will produce beautiful flowers

This one is a really nice mericlone of an AM-awarded orchid. You can expect flowers in 3 to 4 weeks.

The breeding is Oncsa. New Dimension x Onc. hastilabium. The flowers are extremely numerous on mature plants, and when they grow up they often have two or three flower spikes at once.

The judges said this about the award winner: "Eighty flowers and 20 buds on three inflorescences; sepals and petals butter yellow heavily spotted and barred with maroon; lip butter yellow at midlobe with dark maroon spots, lateral lobe and base cream colored heavily overlaid with dark maroon spots and bars; substance firm; all three spikes blooming off one bulb." The flowers had a natural spread of 6 cm. We have a number of these and we'll pick out a nice one for you.

The picture shows the kind of flowers to expect, and the plants in our greenhouse. We will ship in the pot. Medium light and water are best, fertilize weakly twice a month.

We include free growing instructions.

We ship Priority Mail, anywhere in the U.S or its territories. We guarantee customer satisfaction on arrival.