Bulldog: Paph Jenna Marie x Spotglen 'Doodlebug'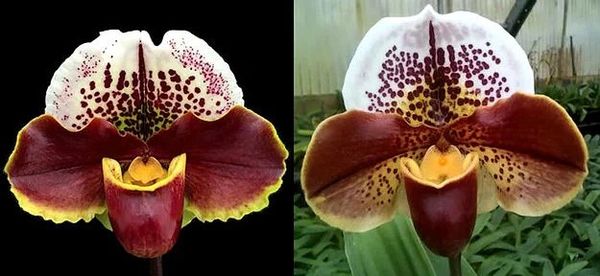 Bulldog: Paph Jenna Marie x Spotglen 'Doodlebug'
If you like big bulldog paphs, this one's for you. We think awards are possible.
The breeding is as described.
We like bulldogs for their wonderful upright posture and distinctive coloration, usually mahogany and green, often with spots and some white in the dorsal.
These are large seedlings in 3 inch pots and have a leafspan of about 7 to 8 inches. We'll pick out a nice one for you. We expect you'll see flowers in 18 to 24 months or so if properly grown.
Paphs are easy to grow, too. Just provide moderate indirect light, try not to let it dry out completely and fertilize weakly once every two or three weeks. Repot annually. Use distilled water now and again to wash away any salts that build up in the mix from the use of well water or tap water.


About Shipping
We ship USPS Priority Mail
We  guarantee customer satisfaction on delivery.
If there's a problem, please contact us before leaving feedback.
We'll work it out with you, up to a full refund.
We may delay shipping if it's too cold where you are.
When you shop with The Orchid Gallery, you get:
The benefit of our 40 years experience with orchids.
Our customer satisfaction guarantee.
Our friendly customer service.
The chance to ask questions and get free advice.
A care sheet with almost every orchid, filled with growing tips.
A quality plant, packed by professionals.
A tracking number for every order.