Bulbophyllum medusa divisions Shipping included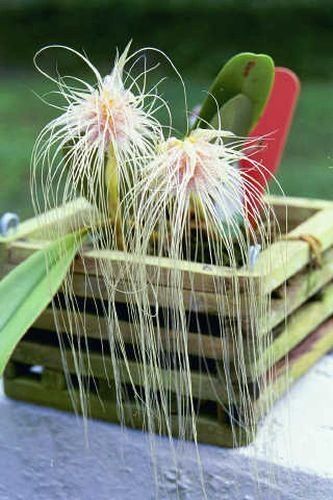 Bulbophyllum medusa divisions Shipping included
FREE SHIPPING
Will produce lovely, but strange looking flowers
Medusa was that mythological lady creature with the hair of writhing serpents, so you can see how this orchid got its name.
Eventually big specimen plants need to be divided and repotted. These are divisions from one of our show plants that had just become ungainly. These are nice size division and all have new growths. A few might bloom this fall but most will wait until next fall. 
These divisions grow like weeds. Grow this plant in moderate light (like a phal) , water it every few days but don't let it dry out completely.Fertilize with a dilute balanced fertilizer every 2 weeks or so. Try to keep it above 60 degrees, and no warmer than 90.
The flowers on this orchid are relatively short-lived – about three days or so -- but just amazing, white with masses of wiry tentacles surrounding a creamy interior, sometimes with a dusting of red spots.
These are native to warm areas of India and Thailand. They are also sometimes called Cirrhopetalum medusae. They do very well mounted, also.
At The Orchid Gallery, we offer quality plants and friendly, personalized service. Our grower inspects every plant we ship.  
About Shipping"
We ship USPS or UPS whichever offers the most prompt service to your address
You can buy with confidence.
We guarantee customer satisfaction on arrival.
When you shop with The Orchid Gallery, you get:
The benefit of our 40 years experience with orchids
Our friendly customer service
The chance to ask questions and get free advice
A care sheet with almost every orchid, filled with growing tips
A quality plant, packed by professionals
A tracking number for every order