Bringing home the Christmas tree - 12-card set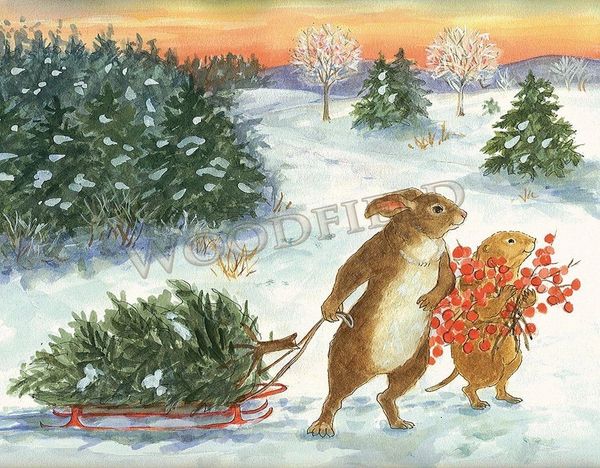 Bringing home the Christmas tree - 12-card set
Set of 12 identical cards & envelopes
Reproduction of an original watercolor
"Friends head home with fresh cut tree"
Blank inside, write your own greeting
This is a boxed set of 12 Christmas cards featuring an original watercolor painting by New Hampshire artist Cindy Hendrick.

The set contains twelve 4-1/8" x 5-1/2" cards, each with the same image, printed on sturdy, heavyweight paper for stand-up display.

They are blank inside, so you can write a personalized holiday message.

The back of each card reads: "As the sun sank low in the sky, the two friends headed home, looking forward to a steaming cup of cocoa and the smell of winter greens filling the burrow."

A testament to your good taste. Printed on recycled paper.


Call us old school, but when you take the time to send a real card, not just an email, it means that much more.
Ships FREE via First Class mail. FYI, the cards you receive will NOT have the watermark.

At the Orchid Gallery, we're more than just orchids. We offer lots of other cool things as well.