Brassavola subulifolia species orchid seedling, 2-inch pot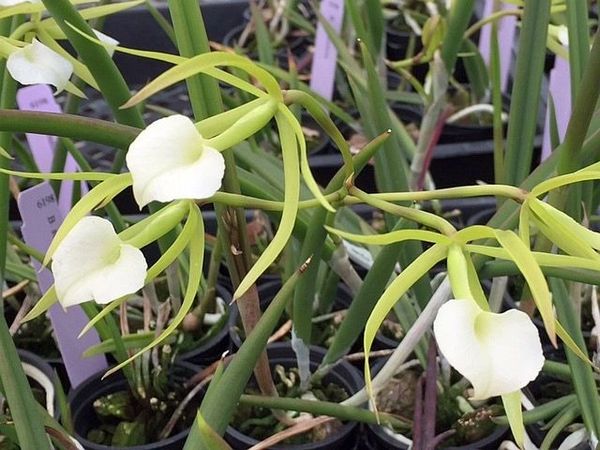 Brassavola subulifolia species orchid seedling, 2-inch pot
Similar to the more common Brassavola nodosa, this somewhat hard-to find-orchid is also known as Brassavola cordata. It's native to Jamaica, and grows well on wooden or ceramic mounts. It's known for the heart-shaped lip on the flowers, similar to nodosa.

The leaves are long and thin, often ridged on top. The leaves can be 8 to 15 inches on mature plants. The flowers are fragrant, but usually at night, as they evolved to attract night-flying insects as pollinators. Flower spikes usually carry four to six flowers.

The ones we have are large seedlings growing in two-inch pots. We recommend mounting them on arrival, using sphagnum moss around the roots and attaching the plants to a wooden mount using strips of old pantyhose. Water when almost dry, which may be nearly daily in some environments.

They are generally considered to require intermediate temperatures. No direct sunlight, but dappled light is OK.

Our guess is that they are two years or so from first flowering. We have a number of them and we'll pick out a nice one for you. We always ship the largest.


About Shipping
We ship USPS Priority Mail or First Class Mail
We  guarantee  customer satisfaction on delivery.
If there's a problem, please contact us before leaving feedback.
We'll work it out with you, up to a full refund.
When you shop with The Orchid Gallery, you get:
The benefit of our 40 years experience with orchids
Our customer satisfaction guarantee
Our friendly customer service
The chance to ask questions and get free advice
A care sheet with almost every orchid, filled with growing tips
A quality plant, packed by professionals
A tracking number for every order