Blue Dendrobium Victoria Regina orchid seedling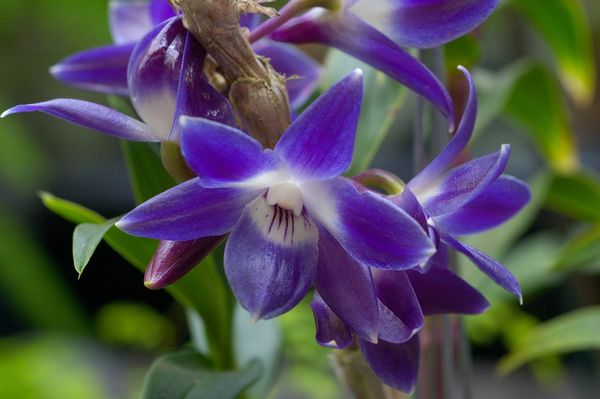 Blue Dendrobium Victoria Regina orchid seedling
Something of a mystery orchid, this hard-to-find dendrobium was registered in 1921.
We've seen it described as a hybrid of unknown parentage, and we've also seen it described as a species. We've also seen it spelled as Den. victoria-reginae. Named for England's Queen Victoria. We lean towards the species explanation, but we're not taxonomist types.

Whatever.

We love the bluer-than-blue flowers it produces and these always sell out whenever we can get our hands on them. Said to have originated in the Philippines. Tends to be a summer bloomer, but can bloom at anytime. Yeah, hey, it's an orchid, so it has a mind of its own.
These are semi-deciduous, so don't panic if a cane starts to lose leaves. Just keep caring for it.

Ours are seedlings, one cane, roughly a foot high, in two-inch pots. We have not repotted; we suggest you don't do that for a while, see how they do. You can grow these mounted, in hanging baskets or in pots. Said to be something of a cooler growing orchid, but we'd take that with a grain of salt. They like to grow a bit moist for a den, and like high humidity. If grown in a house, we'd recommend a humidity tray, but don't let the pot sit in water.

About Shipping
We ship USPS Priority Mail or First Class Mail
We  guarantee customer satisfaction on delivery.
If there's a problem, please contact us before leaving feedback.
We'll work it out with you, up to a full refund.
When you shop with The Orchid Gallery, you get:
The benefit of our 40 years experience with orchids
Our customer satisfaction guarantee
Our friendly customer service
The chance to ask questions and get free advice
A care sheet with almost every orchid, filled with growing tips
A quality plant, packed by professionals
A tracking number for every order