Intensely purple, Blooming size Vanda Colmarie orchid, makes lightly fragrant flowers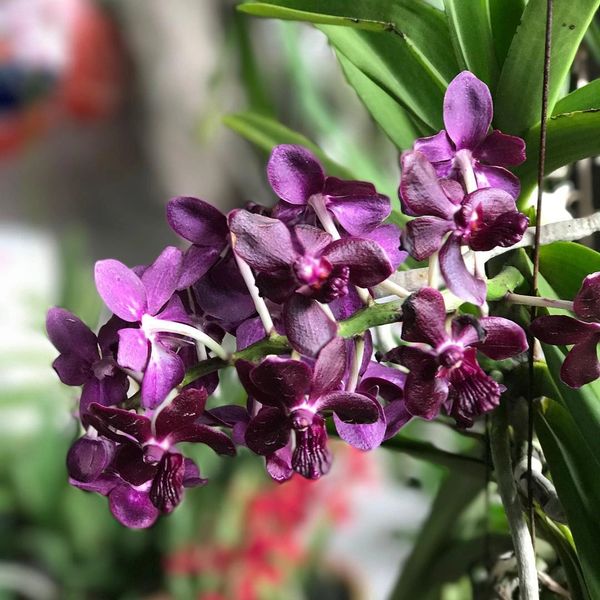 Intensely purple, Blooming size Vanda Colmarie orchid, makes lightly fragrant flowers
This vanda makes amazing dark purple flowers, and they are lightly fragrant, too.
Vanda Colmarie (technically a Vandachostylis) is an orchid hybrid originated by Kultana in 1994. It is a cross of Van. Sri-Siam x Rhy. gigantea.
Not in flower now, but the good news is that vandas  can bloom two or three times a year if they are happy campers.
This one makes smaller flowers than many vandas, but the color is intense and they are fragrant.
This orchid is in a 4-inch hanging pot. The leaves are 8 to 10 inches or more. You get a plant like the one pictured. We always ship the largest.
Vandas are very tropical and they require almost daily watering, so please be aware. NOT for window-sill growers. Vandas are native to tropical rainforests, so in the wild they never lack for water. 
Comes with its own wire hanger. We include free growing instructions.
We ship USPS Priority Mail or UPS.
We  guarantee customer satisfaction on delivery.
If there's a problem, please contact us before leaving feedback.
We'll work it out with you, up to a full refund.
We may delay shipping if it's too cold where you are.
When you shop with The Orchid Gallery, you get:
The benefit of our 40 years experience with orchids.
Our customer satisfaction guarantee.
Our friendly customer service.
The chance to ask questions and get free advice.
A care sheet with almost every orchid, filled with growing tips.
A quality plant, packed by professionals.
A tracking number for every order.