Blooming size Paph. Rolfei (rothschildianum X bellatum)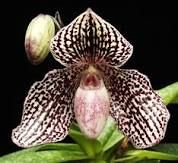 Blooming size Paph. Rolfei (rothschildianum X bellatum)
Paph Rolfei (rothschildianum X bellatum) has a reputation for being a reluctant bloomer, but modern remakes using newer line bred parents are proving easier. These are seed crosses so these is some variation in flower shape and color, but all are spectacular multiflorals. I suspect some of these from this batch will win awards if you're into orchid shows and judging. These are large blooming size multigrowth plants. They generally bloom in the late spring so the time to get one or a couple is now.
For our customers who live up north. If your daytime temperatures are below freezing an insulated box and a heat pack will not always ensure safe delivery. We may need to delay shipping your order until there is a safe weather window. When it is cold but not below freezing during the day please consider buying a heat pack to ensure safe arrival. We will not delay shipping any longer than absolutely necessary.
We ship USPS Priority mail or UPS
We  guarantee customer satisfaction on delivery.
If there's a problem, please contact us.
When you shop with the Orchid Gallery you get our 50 years of experience and the chance to ask questions of experienced growers.
You get quality plants a tracking number with every order.