Blooming size, Miltassia Charles M Fitch orchid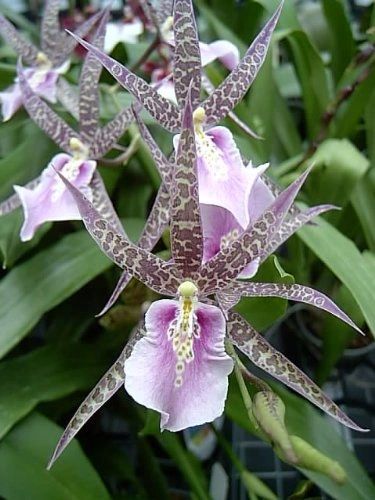 Blooming size, Miltassia Charles M Fitch orchid
Free Shipping

Easy to grow, instructions included

Will produce beautiful flowers

Great windowsill plant

In spike now
This one is Miltassia Charles M Fitch 'Izumi' AM/AOS.

A member of the oncidium family, this orchid (Brs varrucosa x Milt spectabilis) blooms twice a year when mature and pretty much grows like the proverbial weed. The flowers are just amazing -- relatively large, somewhat spidery and simply stunning. The color is a wonderful mottled lavender/purple on the petals and sepals, with a little olive green in the background; the large lip is a stunning lavender with some spots in the center.

These mericlones are in spike now for the first time and they have several pseudobulbs. Mature plants can have 6 to 8 flowers per bloom spike and we have seen some grown up specimens with a dozen or more spikes all at once. Spectacular!

These are easy to grow. Medium light and water are best, fertilize weakly twice a month. Repot after the flowers come and go.

You can buy with confidence. We guarantee customer satisfaction on arrival. We ship Priority Mail with a tracking number. We also include free growing instructions.