Blooming size Maxillaria tenuifolia Coconut Orchid, fragrant flowers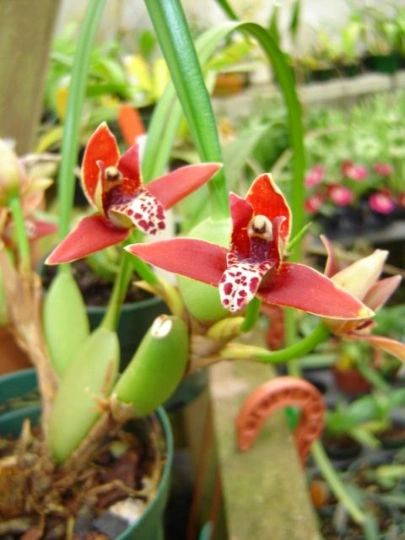 Blooming size Maxillaria tenuifolia Coconut Orchid, fragrant flowers
Free Shipping

In the Zygo/Lycaste family of orchids

Will produce fragrant flowers

Great windowsill plant

Blooming size, but NOT in flower now
One of the easiest orchids to care for, the species Maxillaria tenuifolia is native to an area from Mexico down to Honduras. These summer bloomers carry long lasting dark red flowers with a spotted lip that smell like coconut, and in fact this is often called The Coconut Orchid.
These are large plants, about 16 inches high, in 4-inch pots. The blooms will be an inch to an inch and a half wide and mature plants can have lots of them. One of the award winners (a mature plant) had more than 400 flowers at one time. These have already bloomed for this season, but will flower again next year. If we can find one with a flower, we'll ship that one, but no guarantees.

These like bright, indirect light, a temperature range of 65 to 85 degrees, and we fertilize ours once every 3 weeks or so  with a very weak orchid fertilizer. Water when almost dry. The first picture shows a typical flower; the second picture shows the kind of plant you are purchasing. We have a number of these and we'll pick out a nice one for you.
You can buy with confidence
We guarantee customer satisfaction on delivery
We ship Priority Mail, anywhere in the U.S or its territories. We guarantee customer satisfaction on arrival.