Blooming size Masdevallia ignea, shipping included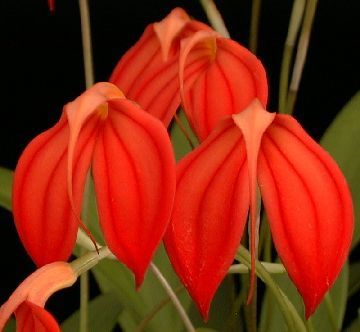 Blooming size Masdevallia ignea, shipping included
These are blooming size and could throw a flower at most any time. They are from a seed cross of the popular Masdevallia species, ignea. It is a cool to intermediate grower and like a lot of water and humidity. It grows and blooms well under lights. We water them every other day whether they need it or not. That pretty much goes for  all the Masies. We use a dilute balanced fertilizer every 2 weeks. They seem to appreciate a fairly frequent dose of food. Because they have been grown from seed there might be some variation in the flower size, shape and color, but all will be beautiful.
We ship USPS or UPS usually within 1 or 2 business days.
We  guarantee customer satisfaction on delivery.
If there's a problem, please contact us.
We want you happy and successful.
When you shop with The Orchid Gallery, you get:
The benefit of our 50 years experience with orchids
Our customer satisfaction guarantee.
The chance to ask questions and get free advice.
Our friendly customer service. A care sheet with almost every orchid, filled with growing tips.
A quality plant, packed by professionals.
A tracking number for every order.