Blooming size, Brassavola perrinii, ships free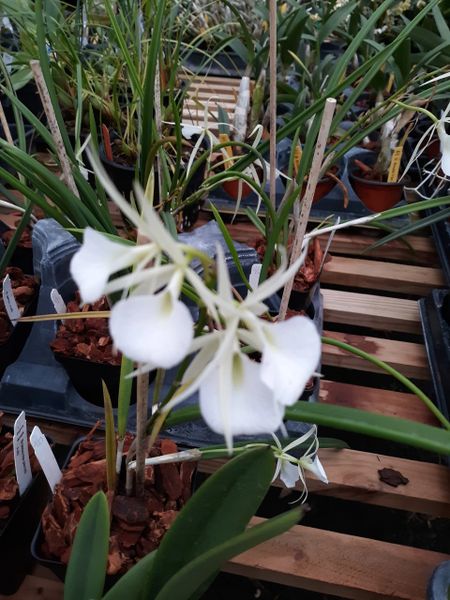 Blooming size, Brassavola perrinii, ships free
B. perrinii is one of my favorites. The flowers are smaller than B. nodosa but form larger clusters. And I think the fragrance is better. At night, one cluster of flowers will fill my greenhouse with the sweetest perfume. The terete leaves tend to hang down and make them great candidates for mounting or growing in a hanging basket.  These are flowering now. Their season is spring to summer. I can't promise they will bloom again this spring. They like bright light and good air circulation. Let them pretty much dry between waterings. With mounted plants you might need to water daily especially in the summer. Fertilize lightly every 2 to 3 weeks.
We ship USPS or UPS, usually within 1 or 2 business days after receiving your order. But, Please be aware that if you live up north in cold country, we may have to delay shipping until your weather is suitable. When daytime temps are below freezing and the nights even colder, even heat packs and an insulate box aren't perfect.
We  guarantee customer satisfaction on delivery.
If there's a problem, please contact us.
We want you happy.
When you shop with The Orchid Gallery, you get:
The benefit of our 50 years experience with orchids
Our customer satisfaction guarantee.
Our friendly customer service.

The chance to ask questions and get free advice.
A care sheet with almost every orchid, filled with growing tips.
A quality plant, packed by professionals.
A tracking number for every order.