Bllra. Patricia McCally 'Pacific Matriarch seedling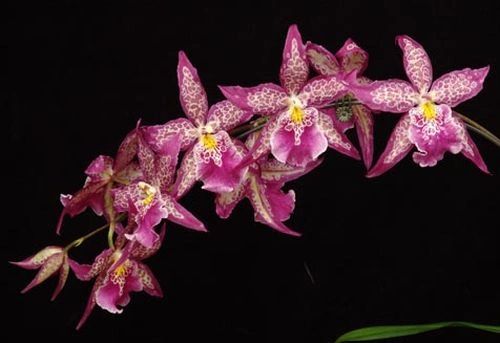 Bllra. Patricia McCally 'Pacific Matriarch seedling
Patricia McMcally 'Pacific Matriarch' produces a tall spray of 8 to 10, 3 to 4 inch star-shaped, pinkish-purple flowers with a yellow splash in the center. These are a clones, a year or two from their first bloom but well worth the wait. These make great windowsill plants keep them under 80 degrees. They can stand lows in the upper 50s. They should never become completely dry. Water them thoroughly and  them let them alone until it is time to water again. Fertilize every 2 or 3 week with a dilute solution of a balanced fertilizer. Follow these simple steps and they will reward you with years of stunning floral displays. 
We ship USPS or UPS usually within 1 or 2 business days.
We  guarantee customer satisfaction on delivery.
If there's a problem, please contact us.
We want you happy and successful.
When you shop with The Orchid Gallery, you get:
The benefit of our 50 years experience with orchids
Our customer satisfaction guarantee.
Our friendly customer service.
The chance to ask questions and get free advice.
A care sheet with almost every orchid, filled with growing tips.
A quality plant, packed by professionals.
A tracking number for every order.