Blc Yen Corona 'Green Genie' blooming size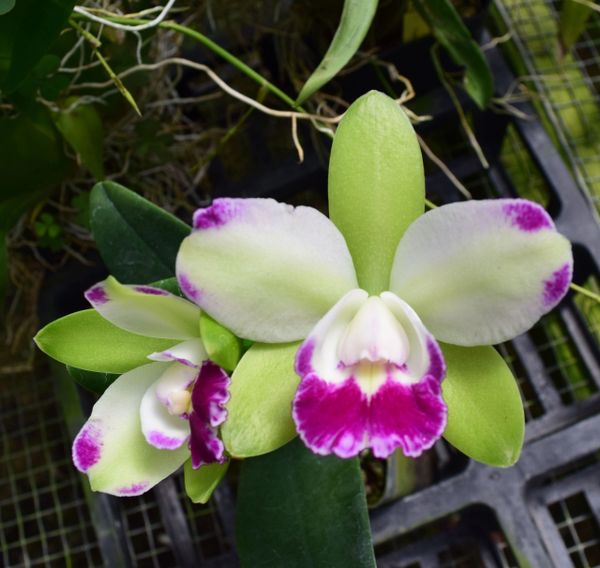 Blc Yen Corona 'Green Genie' blooming size
Free Shipping

Easy to grow, instructions included

Will produce beautiful flowers

Great windowsill plant, but NOT in flower now

This one will produce lovely green, cream and violet flowers, with perhaps a hint of yellow in the centers.
This is a clone of Blc (or Rlc, if you insist) Yen Corona 'Green Genie' AM/AOS. It was awarded in 2007 at the Houston Orchid Society's summer workship.
The judges described it this way: "Eight nearly flat, full flowers well-presented on one inflorescence; sepals apple green; petals white, distal two-thirds uniformly marked violet; lip open over column, white, distal third overlaid; column white, anther cap yellow; substance strong; texture matte." The natural spread was 8 cm.
If you're into cattleyas, this is a good one to have. The breeding is Cattleya Brazilian Treasure x Rhyncholaeliocattleya Memoria Helen Brown. We know it's blooming size because it recently finished blooming. We will ship freshly repotted.

They are in 3.5 inch pots and the longest leaves are 8 or 9 inches.
These like bright indirect light.  Allow to get dry or almost dry between waterings.
Cattleyas are good beginner orchids as they can stand a little abuse.
We have a bunch of these and we'll pick out a nice one for you. We always ship the largest plant.
You can buy with confidence.
We guarantee customer satisfaction upon delivery.