Stunning Aliceara Stellar 'Hoku' orchid in spike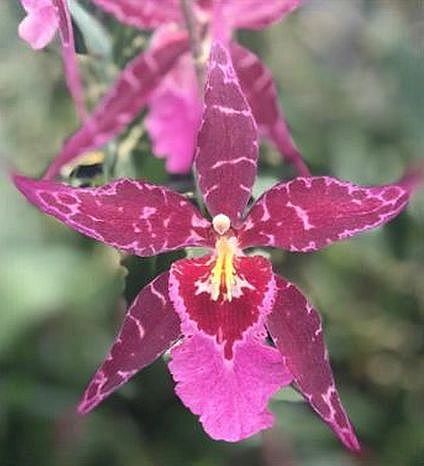 Stunning Aliceara Stellar 'Hoku' orchid in spike
FREE SHIPPING

Now comes Aliceara Stellar, a hybrid oncidium that produces lovely pink and red flowers like the one pictured.
The breeding on this one is Oncidium Memoria Dale Lawless x Aliceara Memoria Jay Yamada. It's also sometimes called a Beallara, but who cares, they're always changing orchid names. Just relax and enjoy the flowers. These are probably 3 to 4 weeks from opening.
These are mericlones, and the flowers will look like the one shown. These plants are in 3.5 inch pots, and they are in spike now, with multiple pseudobulbs.
We have free heat packs available and we always check the weather carefully before shipping.
Note: We can't ship safely these tropical plants if your nightly lows are below 25 degrees.
Heat packs are free, but they are not effective in severe cold.

These are easy to grow. Medium light and water are best, fertilize weakly twice a month. We have a bunch of these and we'll pick out a nice one for you.
You can buy with confidence. We guarantee customer satisfaction on arrival.
 We will ship in the pot.
About Shipping
We ship USPS Priority Mail or First Class Mail
We  guarantee customer satisfaction on delivery.
We'll work it out with you, up to a full refund.
We may delay shipping if it's too cold where you are
When you shop with The Orchid Gallery, you get:
The benefit of our 40 years experience with orchids
Our customer satisfaction guarantee
Our friendly customer service
The chance to ask questions and get free advice
A care sheet with almost every orchid, filled with growing tips
A quality plant, packed by professionals
A tracking number for every order